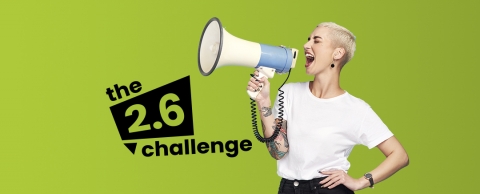 Are you up for the #TwoPointSixChallenge?
It's an especially difficult time right now for all charities and we need help from Home Heroes like you! As a result of the Coronavirus crisis, we're facing a real challenge in lost income from memberships, cancelled events and proceeds from our visitor centres and cafés.
The idea is to come up with an activity based on the numbers 2.6 or 26 (inspired by the cancelled 2020 London Marathon 26 mile distance) and complete it on or from Sunday 26 April. We then need you to fundraise or donate to Northumberland Wildlife Trust. You can be as imaginative as you wish and it's a challenge for ALL ages and abilities. It could be something as simple as pledging to run 2.6 miles as your daily exercise or hula hooping for 26 minutes (or maybe just 2.6).
The #TwoPointSixChallenge is your chance to be a Home Hero and raise funds from your very own living room, bedroom, balcony or garden! There are no rules – apart from the Government guidelines on how to exercise safely during this time. The main thing is to get active, have fun, pledge whatever you can to help or fundraise to save the UK's charities.
When you've come up with an idea, just set-up an online fundraising page (find us on Virgin Money Giving) or use our downloadable sponsorship form and then spread the word to your friends and family for support. And make sure you let us know what you're doing by contacting mail@northwt.org.uk or by sharing your progress on Facebook, Twitter and Instagram using #TwoPointSixChallenge. We'd love to see your challenge photos and videos.