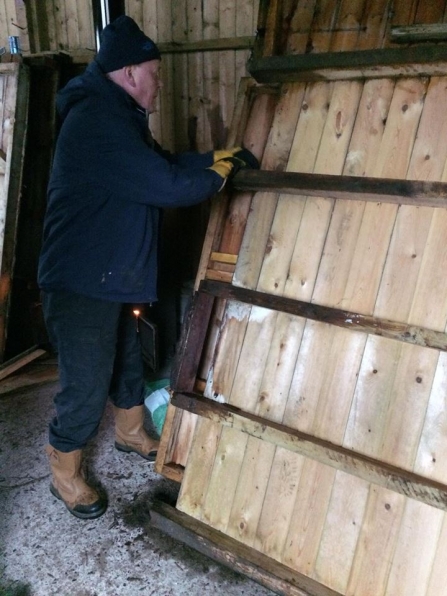 During the winter months, the water voles at Kielder will not be very active, they don't hi-bernate, but they do rest up in their burrows and eat their stores of vegetation stored within them. We have had some very high rainfall of late, and lots of fast flowing rivers and burns, it will be interesting to see how ratty has fared when we begin surveying in the spring. Over the winter we have been preparing for our next releases, organizing our events and School programs and repairing a new bird hide ready to install on the forest drive.
Northumbrian Water kindly donated one of their old bird hides to us, which we have taken up to a workshop within Kielder forest to repair. Our project would be nowhere near as successful without the help and support of partners. We'd like to thank Northumbrian Wa-ter for donating the hide and also Forestry Commission for letting us use one of their work-shops.
The hide measures 18x8feet and once repaired will be installed on the Forest Drive within Kielder Water & Forest Park, sited above a pond. We would love visitors to be able to sit in the new hide and be able see a glimpse of water voles which we know are there as we re-leased several of them in the pond last June, and frequently find their prints and droppings around the pond.
As always our fantastic volunteers are providing invaluable help during this undertaking; offering a variety of skills as well as muscle to help shift the hide sections which definitely requires 4 people! With any luck the hide will be open and ready for use for Easter. If you'd like to visit the hide, please be aware that there is a charge for Forest Drive and the Forest Drive is closed during the winter months (www.forestryengland.uk/kielder-castle/kielder-forest-drive). We'll keep you posted on our progress!