The Catch My Drift Project is currently in its three-year delivery phase, following funding of a full grant of £415,800 which was awarded by the National Lottery Heritage Fund during the summer of 2020. Thanks to National Lottery Players, this crucial funding has already enabled us to deliver a very successful initial phase of the project, which helped develop detailed plans to improve East Chevington Nature Reserve, located on the Northumberland Coast, for the people and wildlife that use the site. Over the coming years, Catch My Drift aims to: improve the habitat quality and complexity at East Chevington, conduct thorough ecological surveys to build on existing species records for the site, improve public access and interpretation on site and organise community engagement events at the reserve.
The project name is a nod to the reserve's history, as it was once the East Chevington Drift Mine (1882 - 1962) and East Chevington Opencast Coal Site from 1982 - 1994. Due to its heritage as a drift mine, East Chevington Nature Reserve was once the location of a village where miners and their families lived until many were relocated to nearby Hadson and Red Row, creating a strong affinity with the site among the local community. The 185-hectare site was passed to Northumberland Wildlife Trust in 2003 and now contains lakes, ponds, reed beds, woodland, pasture and arable farming that are home to nationally significant species such as marsh harrier, red squirrels and great crested newts. It is also important to the local communities who use the site as an area for walking and access to the beach and it is estimated (in its current state) 10,000 visitors go onto the site each year.
Over the course of the initial one-year development phase, a team of dedicated volunteers worked alongside the project assistant, surveying the site to achieve 1,542 individual records and completing 1,300 hours of work. There were 438 different species recorded of which 276 were new for the site and included common lizard, elfin saddle, pepper saxifrage and hedgehog, others were rediscoveries. In October 2019, two harvest mouse nests were discovered within the East Chevington reedbeds, 15 years after they were introduced. The project also engaged with 740 people from the local communities through talks, leading guided walks, talking to those onsite and holding consultation events. Everything that was discussed was fed into the development plan. Following the further funding from the National Lottery Heritage Fund, Catch My Drift will be able to employ three project trainees over the course of the project. The project trainees will assist with all aspects of project delivery, from practical conservation work and ecological surveys to running community engagement events and volunteer tasks. These traineeships provide an amazing opportunity for graduates to gain quality work experience in the sector.
East Chevington has two large water bodies which are surrounded by a significant area of reed bed. This habitat is identified within the Northumberland Biodiversity Action Plan (BAP) as extremely uncommon and East Chevington is named as the only large complex in the county. The reed bed is at risk of being lost due to scrub development. Staff and volunteers are unable to gain access and physically cut and remove areas of scrub to arrest ecological succession as current water levels are too high. Last year the project team worked alongside JBA consulting to develop a site masterplan, which lay out plans for new sluice structures, as well as how we can encourage reed bed growth on the north lake and re-profile the reed bed on the south lake. This year we will be working with Seymour Civil Engineering, to reinstate drainage ditches and replace the existing sluice structures East Chevington. The installation of adjustable penstocks will allow easy control of water levels throughout the year.
Biotope UK were brought in to design plans for hide improvements as well as the possibility of two new hides. They have focused on improving the user experience by making the hides more comfortable to use, increase accessibility and improve the overall aesthetics. Improved interpretation and signage throughout the site, alongside more accessible gates, will also be installed during the three-year project, to ensure East Chevington can be enjoyed by all, and that all visitors can have an informative and pleasurable visit.
Last year the project also received additional funding of £7,774 for a 4.2 hectare wildflower meadow from the Ventient Sisters North Steads Wind Farm Community Benefit Fund, which was sowed by volunteers and the Coast Care Young Rangers. This adds to the large areas of wildflower meadows we aim to create as part of our habitat improvement plans. Funding from Co-op Local Community Funding is also due to contribute towards the equipment and running costs associated with community engagement activities, especially with local schools.
The plans from Biotope UK for the East Chevington nature hides can be found below along with JBA Consultings proposed masterplan. We want you to have your say, so get in touch! If you would like any further information on the project, or want to provide your input please email catchmydrift@northwt.org.uk. Also follow the project on Facebook, Twitter and Instagram.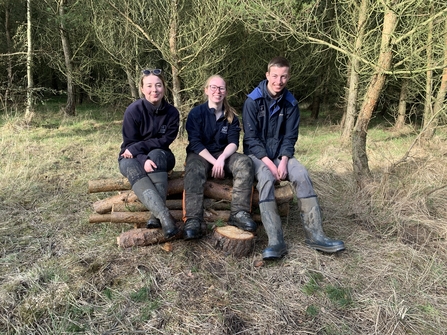 Catch My Drift Project Trainees
The first two project trainees, Chloe and Joel (pictured right and centre along with Sophie the CMD Project Officer) have immersed themselves in the project by undertaking a wide range of tasks. These have included practical work on site such as woodland thinning and removing invasive species, improving wildlife records for the site through breeding bird, bumblebee and wildflower surveys.
The trainees have also lead numerous volunteer days and they are engaging with the local community through guided site walks and by meeting with people who used to live in the village of East Chevington.