Due to the current government guidance, our staff are mainly working from home and therefore, it may take slightly longer than normal to despatch your membership pack. We are typically despatching on a weekly basis. Items are sent by 2nd class Royal Mail service, so please do allow some time for delivery. Please note that you must purchase any gift memberships by midnight on Tuesday 14th December to guarantee delivery in time for Christmas.
Thank you for your patience.
Support local wildlife
Help us protect the wildlife and countryside you love... and discover the incredible natural world, right on your doorstep.
Choose your perfect membership to make a regular donation to Northumberland Wildlife Trust. You can choose to support us with individual, joint, family or family watch membership and you can give monthly or annually. It's quick, secure and easy.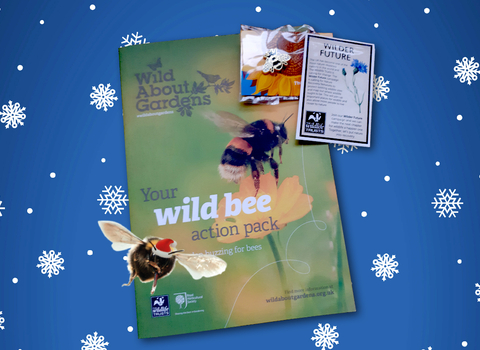 Bee happy this Christmas!
Treat a friend or loved one this Christmas with a special gift that keeps on giving to local wildlife well after the festive period is over. Purchase a gift membership from just £36 per year (or £3 per month) and you'll be helping to support local wildlife and they'll get our fantastic membership pack plus our Roebuck magazine 3 times a year. We'll also include a gift card with your own personal message to them. And we've added an extra gift to celebrate our Action for Insects campaign – a wild bee action pack including lots of advice on making your garden bee friendly plus a special bee pin badge and some wildflower seeds to sow ready to attract those pollinators for next spring.
Click here
Christmas Gift Membership Terms and Conditions

Please note that you must purchase your gift membership by midnight on Tuesday 14th December to guarantee delivery in time for Christmas. 

Gift membership includes standard NWT membership pack plus personalised gift card and wild bee action pack (including bee pin badge and wildflower seeds).

You can request the gift membership to come to you (the purchaser) or direct to the recipient. Please select the option as you complete the online form.
Gift memberships will be posted beginning of December to the purchaser. Any gift membership going directly to the recipient will be posted on 17th December to ensure delivery in time for the big day.
Gift membership is available for Individual, Joint, Family and Family Watch NWT memberships (not Watch only).
Does not include Friends of the Red Squirrel.
Available online via the NWT website
If you have recently received a subscription renewal letter, and wish to renew your membership by debit/credit card, please click the button below.
Joining your local Trust is one of the most important things you can do to make sure the species and habitats we love will be there for future generations to enjoy.

President Emeritus of the Wildlife Trusts
Why should I join?
Every single person who joins makes a vital difference..
You'll be making a real contribution to saving nature and special wildlife places locally
Wildlife Watch is the junior branch of The Wildlife Trusts and the UK's leading environmental action club for kids. If you care about nature and the environment and want to explore your local wildlife, this is the club for YOU!
You can join as a whole family, or purchase Watch memberships for only £20 annually, which covers up to four children at one address.
If you join Wildlife Watch as a member you'll get all sorts of exciting wildlife goodies throughout the year. This includes four issues of Wildlife Watch magazines, as well as posters, stickers, activity books and more. You can also take part in one of our Wildlife Watch award schemes.
Best of all, by becoming a member you will be helping to protect your local wildlife. Fantastic!
We also have a really wild website which sends out a monthly e-newsletter full of wild ideas and nature-spotting tips. And the very best thing about Wildlife Watch is that you'll be helping Northumberland Wildlife Trust to care for the wildlife where you live! Isn't that great?