When we stop and think, we all know that nature is good for us, but how often do we do something about it?
Now in its third year, the My Wild Life campaign, which is run by all 47 UK wildlife trust, has the support of Sir David Attenborough, who believes contact with nature should not be the preserve of the privileged and is critical to the personal development of young people.
Sir David is one of hundreds of people taking part so far, alongside students, nurses, families, volunteers, teachers and many others from across the UK.
His, and other stories, can be found at www.mywildlife.org.uk where people can add their own story and discover wild places near to them. Everyone can share their stories of the wildlife and wild places which matter to them and why, using #MyWildLife on twitter, facebook and instagram.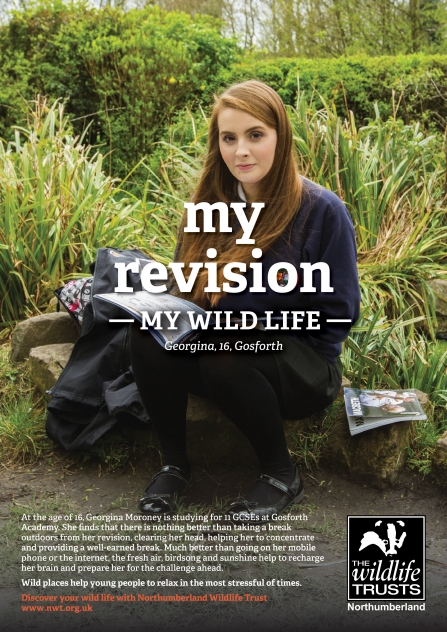 Natural health service
This year, one of Northumberland Wildlife Trust's My Wild Life posters features sixteen year old Georgina Moroney, who has supported the wildlife charity since she was seven years old, and, in recent years, has volunteered with the Trust and assisted at a number of major events, including its Our Wildlife 2015 and Our Wildlife 2016 events.
The message is that as young people throughout the region approach their exams, rather than checking their phones during a break from revision, they should consider sitting outside and re-charging their brain cells - as a bit of sunshine and fresh air can help young people de-stress during such a crucial time in their lives.
The Wildlife Trusts have compelling evidence that the health of humans is inextricably linked to the natural world. Inactivity and obesity are escalating and poor mental health is having a significant impact on many, especially young people, with fewer than one in 10 children regularly playing in wild places, compared to almost half, a generation ago. It is estimated that if every household in England were provided with good access to quality green space, it could save an estimated £2.1 billion in health care costs.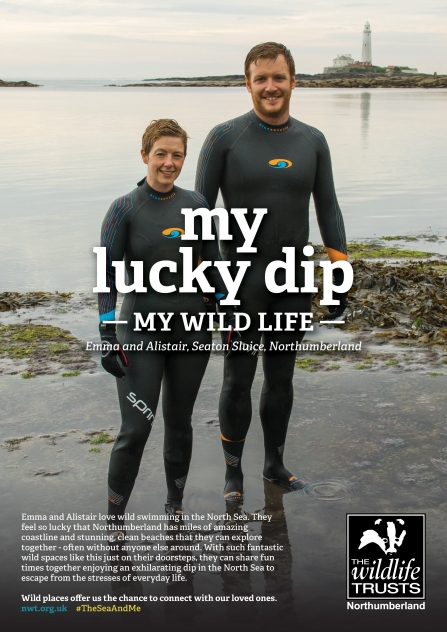 Getting close to nature and getting close to loved ones
Another key message that NWT is promoting is that people can use nature to share precious time with loved ones. Enjoying a picnic, leisure activity or camping with friends and family allows an escape from the everyday stresses or home/work life.
In this picture, Alistair Ford and Emma Bowen are featured enjoying an early morning wild swim near Saint Mary's Lighthouse, Northumberland. Not only do they get to spend some special time together on their unusual hobby but they get to explore our beautiful, coastal areas across the region away from the crowds.
Check-out this short clip

Duncan Hutt our Head of Land Management filmed at Bell Crag Flow.