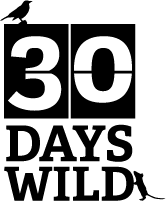 We truly believe that life is better when it's a bit wild and we're not alone. In 2018, more than 68,000 people across the UK took part in the fourth 30 Days Wild challenge, with over 650 people going wild in our area alone. We hope you were able to be a part of it.
30 Days Wild is the UK's month-long nature campaign run by The Wildlife Trusts which encourages participants to do their your bit to interact with and help wildlife. From little actions (like stopping to smell a flower on you way to the shops or taking a moment to watch squabbling sparrows in a hedge) to big things (like giving up single-use plastics for a month or pledging your support to a nature campaign), 30 Days Wild is all about re-connecting with the natural world around you and doing a little bit of good for wildlife.
Stay Wild!
Just because 30 Days Wild is over, your wild adventure doesn't have to stop there. If you spent 30 Days Wild, now Stay Wild with Northumberland Wildlife Trust. We're working hard to make sure our wildlife and wild places are thriving and protected for the future. From looking after land and seas, to working with schools and community groups, by becoming a member, you can help your community and the wildlife that depends on it. Did you know there is an active community of nature-lovers right across Newcastle, North Tyneside and Northumberland all working together to save wildlife? Yet sadly. Nature remains in real trouble. Over half of UK species are in decline. Shockingly, one third of our hedgehogs have been lost since the year 200 for example. Our volunteers and members work from the grassroots to help our bees, bugs, birds, bats and other wildlife find a way to survive. We believe that local nature needs us but people need nature too!. That's why we help people to:
Get closer to nature on their doorstep
Protect wild places and look after nature reserves for future generations
Learn more about wildlife and take action to support it
If this sounds like a community you'd like to be a part of then why not join us?