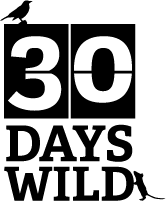 Continue your wild adventure
We hope that you had a fantastic time during June, taking part in 30 Days Wild with Northumberland Wildlife Trust. Over 1,600 took part this year which is amazing! Thank you to everyone who took part.
30 Days Wild may be over, but hopefully your wild month has inspired you to get outdoors as much as you can throughout the year. There's so much to see all year round, and a little bit of nature every day really does make you feel happier and healthier, especially in what has been a very difficult time recently.
Visit our actions for wildlife page here for more things to do to help wildlife near you.
And don't forget to share your wild activities with us using #365DaysWild on Facebook, Twitter and Instagram.