Hauxley Wildlife Discovery Centre is open Tues - Sun, 10:00 - 16:00. We will be closed Mondays until further notice.
Trace and Trace details are required from all visitors, and face coverings are required whilst inside any of our buildings.
The Lookout café is now open 'Covid-19 Secure' and operating with a limited menu (soup, scones, cakes, coffee and tea) indoor waitress service from 10:00 - 16:00.
Our toilets are open to our visitors, masks are required and our bird hides are open although access is limited.
Whilst on site, please make sure you read the signage and listen to our staff's instructions as guidance changes frequently!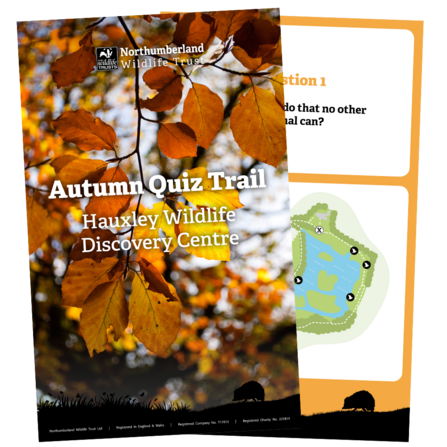 New quiz trails!
We have new downloadable trail guides for Hauxley and Northumberlandia available for purchase!
Hauxley Wildlife Discovery centre is one of the best wildlife watching spots in the North East. It's a great place for birds and butterflies and probably the easiest place in Northumberland to see red squirrels and tree sparrows. Wildlife changes with the seasons so there's something to see all year round. Right next to the beach, it offers fantastic views across the length of Druridge Bay and is internationally renowned for its birds.
The eco-friendly Visitor Centre, constructed by an army of dedicated volunteers has been a labour of love. It's a straw-bale building and has a number of other highly innovative 'green' features that make it an appropriate home for a Wildlife Trust team. 
Visitors can enjoy the walks and nature trails around the reserve, the tranquillity of the hides, and of course a tasty something from The Lookout Café. The café offers a range of hot and cold refreshments including freshly brewed coffee, a selection of scones baked freshly each day, locally sourced cakes and biscuits as well as sandwiches, toasties and soup. Look out for the daily menu specials!
There is also a range of shop items on offer, from Trust branded merchandise, wildlife books, binoculars, local produced goodies, pocket money momentos and turned wooden bowls and ornaments created from wood sourced from the NWT reserves.
There is an interactive wildlife-rubbing disc trail available for children through the woodland adjacent to the Centre. Trail materials are available from the Café for a small charge. We also have a natural play area, great for under 10s. You can also hire binoculars for a credit card deposit from the Café.
Hauxley Wildlife Discovery Centre runs a packed programme of activities and events throughout the year including bird walks, bat evenings, optical equipment sale weekends and much more. Click here for specific information on events running at Hauxley.
Please visit our reserves page here for more information on Hauxley Wildlife Discovery Centre, the reserve and the wildlife on site.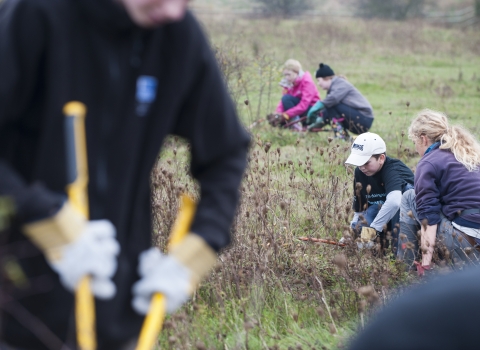 Volunteer
We're always looking for extra help at the Wildlife Discovery Centre, from site welcomers, to serving in the café, to supporting our events and activities. So if you are interested, please visit our volunteering page.
Find out more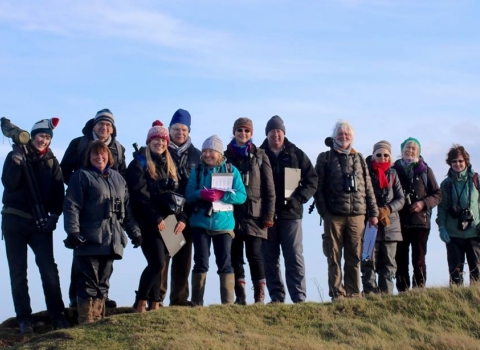 Join our wildlife group
Why not join the Hauxley wildlife group? Open to NWT members only, the group meets once a month for walks, talks, workshops and social activities. Ask reception or email events@northwt.org.uk for further details.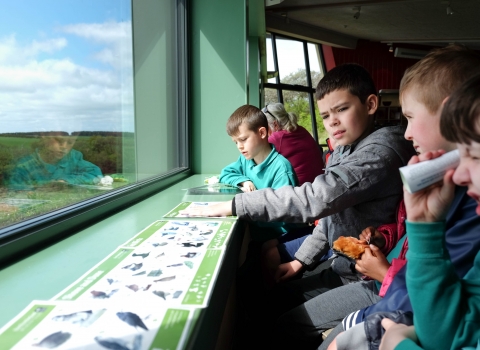 Discover and learn
We offer schools a range of hands-on activities which are enjoyable, memorable and designed to get students closer to the natural environment. We also run sessions for after-school groups, such as wildlife clubs or scouting/guiding groups. In addition, we have a specially designed programme of adult workshops. For details of our programmes please contact the Centre on 01665 568 324.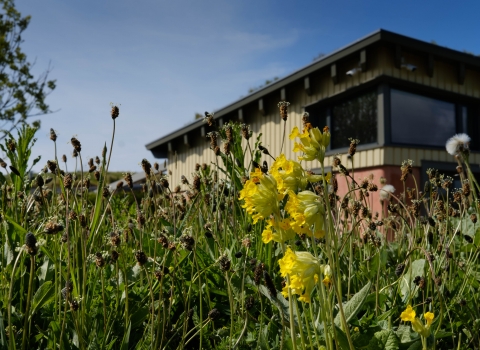 Hire our facilities
Our classroom 'The Tynan Room' can be hired for your events, please contact the Centre on 01665 568 324 for details.
Planning your visit
Note (updated 30/09/2020): From Tuesday 21st July, we will be open six days a week. Opening times are Tues-Sun 10:00 - 16:00. Visitors no longer need to book. The Lookout café is now open with a limited menu (soup, scones, cakes, coffee and tea), adhering to all new safety guidelines including track and trace and table service. Please note: at present we do not have the resources to open the site for members only from 9:00-10:00. We will review this in due course.
Near Low Hauxley village, at the northern end of Druridge Bay
Low Hauxley
Northumberland
NE65 0JR
01665 568 324
Please do not follow a sat nav into Low Hauxley – we share an access road with Silver Carrs Caraven Park.
We are sorry but no dogs other than assistance dogs are permitted at the Wildlife Discovery centre or on Hauxley nature reserve. If you wish to walk your dog, please use the path to the beach.
There is no entry charge to visit the centre.
Please contact the site if you are planning a group or school visit so that we can confirm staff and parking availability for a larger vehicle such as a mini bus or coach. 
Access
There is an accessible car park, most paths are level and wide, and entrances are ramped or level with extra width especially created to ensure that everyone is able to enjoy the Wildlife Discovery Centre. There is an accessible toilet on site. Please contact the site directly for any specific access requirements.
Car parking – Changes from 1st April 2019
NWT does not receive any direct government funding and the car parking charges will help us maintain our, road, car park and other facilities at Hauxley, as well as support our crucial conservation work on Druridge Bay.
Cars £2
Mini bus £5
Coach £10
For more information or to purchase an Annual Parking Permit click here.
Awards