The Northumberland Peat Partnership aims to bring stakeholders together to collectively facilitate positive management and restoration of peatland habitats focussing on the Partnership Area; the area of Northumberland north of the A69, outside the North Pennines AONB.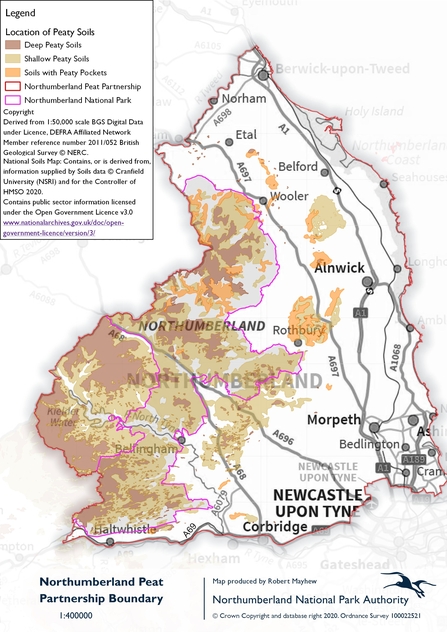 Aims and Objectives

The partnership aims to:

Promote peatland restoration and sustainable management to support the benefits that peat delivers for biodiversity, carbon management, flood risk management, erosion control, water quality, securing an archaeological record, fire risk management, landscape quality, natural beauty and recreation.
Evaluate the peatland resource within the Partnership Area by mapping and assessing its ecological composition and condition; and the opportunities to enhance and support ecological connectivity.
Evaluate the peatland resource within the Partnership Area by mapping and assessing its carbon content, carbon flow dynamics; and establishing the current and potential role it has in meeting the UK's commitment to reach net-zero by 2050.
Develop a prioritised list of costed peatland restoration plans to secure future funding to support implementation.
Seek and secure funding for peatland monitoring projects across upland Northumberland, developing an overarching approach to build knowledge on how management and restoration actions impact on the ability of peat habitats to deliver wider benefits
Share relevant data, best practice and understanding of sustainable management techniques to support well-functioning peat habitats across the land management sector and contractor community.
Work in partnership with organisations interested in peatland conservation, including the ICUN UK Peatland Programme to share knowledge and research findings, and to promote the value to society of well-functioning peatland habitats.
Case Studies

Our member organisations have a track record in delivering high quality peatland research and restoration works. Examples of these include:
Membership
Membership is open to all those who support the aims and objectives of the partnership. If you wish to enquire about joining the partnership, then please contact Northumberland Wildlife Trust (mail@northwt.org.uk).
 
Current Members