Living Landscapes is a vision for wildlife and people developed by The Wildlife Trusts. The idea is that by thinking big and collaborating on a larger scale than ever before, we can improve the landscapes of the UK for the benefit of our wildlife and people, both now and into the long-term future.
In Living Landscape areas, we will promote and a deliver a vision in which:
Our people interact more with their natural environment and it becomes part of their everyday life - visiting and experiencing the natural world and being enriched in mind and body.
You can find peace and tranquility, away from the stresses and strains of urban life; lush woodlands alive with birdsong; heathlands, wild and unforgiving; vistas of magnificent rolling hills; miles of white sand.
We share a greener and more pleasant land for people to enjoy, a land more attractive to investment and where a series of large interconnected wildlife-rich, landscapes are developed for the benefit of our communities and wildlife.
The countryside is as rich in wildlife as it was 100 years ago, but helps maintain our climate, produces our food, and provides clean air and water – a countryside fit for the 21st Century.
We are making long term plans for the future of our region's wildlife. Until 2021, Northumberland Wildlife Trust is focusing its efforts on three Living Landscape areas, as shown on the map below.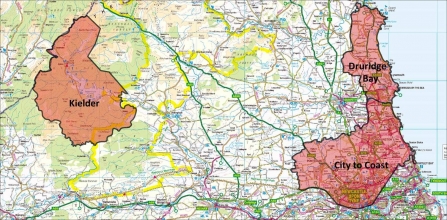 In these areas, we are working to transform the environment we live in: restoring, recreating and reconnecting wildlife-rich spaces in rural and urban areas by working in partnership with local communities, landowners, schools and businesses.