At Northumberland Wildlife Trust, people are at the heart of everything we do. We believe that everyone should be given the opportunity to learn about and have access to wildlife and wild places.
Learning at Hauxley Wildlife Discovery Centre
Hauxley Wildlife Discovery Centre has excellent facilities to host visits from schools and other educational groups. The circular walk, around the nature reserve, takes you around wetland, meadow and woodland, with 6 hides from where you can watch wildlife. The pond on site also allows for exploration of this aquatic environment. In addition, we have a dedicated classroom for up to 30 students, with accessible toilets, telescope and binoculars and a natural play area, great for under 10s.
We can offer schools a range of hands-on activities which are enjoyable, memorable and designed to get students closer to nature. Sessions can be tailored to most ages and abilities and larger class sizes can be split as appropriate. A full day session with a member of NWT staff costs £250 for up to 30 children including use of the classroom. For more information, please email mail@northwt.org.uk and we'll put you in touch with someone to plan your visit.
You can also 'do your own thing' and hire the purpose-built classroom to teach, store your own equipment and have your lunch. Please contact the Centre for more information on (01665) 568 324 or email mail@northwt.org.uk. (Note - it is essential to make a firm booking well in advance as meeting room space and coach parking is limited and the centre will get busy, particularly in the spring and summer terms).
We have also developed a programme of adult learning workshops which cover a wide range of subjects including species identification, practical skills, crafts, photography and much more.
For more information on Hauxley Wildlife Discovery Centre:
Learning at Northumberlandia
Northumberlandia is an excellent site for schools and other educational groups to visit with opportunities to learn about art, heritage, geography and of course wildlife and habitats.
We are able to offer staff-led visits to Northumberlandia which are engaging and inspirational. Sessions can be tailored to most ages and abilities and larger class sizes can be split as appropriate. A full day session with a member of NWT staff costs £250 for up to 30 children. For more information please email mail@northwt.org.uk to plan your visit. 
You are also very welcome to visit the site for self-guided visits, but please do let us know if you are planning to come along with a larger group (more than 10), or if you would like to bring a coach or mini bus so we can plan for parking. Please contact us on the above email to let us know your plans.
For more information on Northumberlandia:
Education resources
We have created a fantastic Environmental Education Activities Pack, full of activities suitable for ages 4-14. Each section of the pack includes all the information and resources you would need to run a successful environmental activity. The pack has been designed with five of our sites in mind (St Nicholas Park, Fencerhill Woods, Weetslade Country Park, Big Waters and Prestwick Carr) but can be adapted and used at any site of your choice! The packs are £10 to buy (in CD form) and can be purchased from our HQ in Gosforth.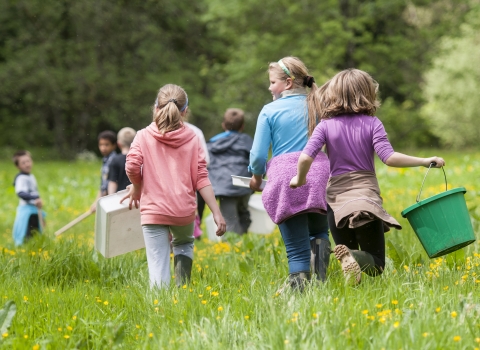 Wildlife Watch
Wildlife Watch is the junior branch of The Wildlife Trusts and the UK's leading environmental action club for kids.
Find out more
On-going education projects
Environmental education at Weetslade

Since 2012, NWT has been undertaking education work with local school children at Weetslade Country Park. The work commenced as part of a project aiming to give young people the opportunity to enhance a green space local to their home, for the benefit of people and wildlife, and has grown into a strong partnership with the school involved.

Weetslade Country Park in North Tyneside has been developed on the former pit heap of Weetslade Colliery. Funding for the project is from the Land Trust.

From summer 2012, children from Amberley Primary, Killingworth visited the site in a series of sessions to undertake environmental education activities ranging from animal tracks and trails, mapping and treasure hunts and bird watching, as well as practical tasks to enhance the site for wildlife.

Two different Year 3 classes participated each academic year and the achievements were fantastic, planting approximately 700 native bluebells and planting 100 native trees per year. They also orientated themselves well by touring the site and reaching the drill heads at the top of the 95m hill where they enjoyed views to the North Sea and Cheviot Hills. The children experienced the heat of summer when the wildflower meadows were at their best and the extremes of winter when the north wind was sweeping across the site.

Autumn 2014 saw Burradon Primary School also join the project and their Eco Club participated for several years. They undertook various activities including examining a collection of animal skins and skulls, creating their own animal plaster cast of a foot print and creating an animal tracks trail.

Over the years, staff, volunteers, teachers and parents have worked together to allow this valuable engagement opportunity to be delivered.

As a testament to the value of these visits, the NWT team is still working with groups from Amberley Primary School at Weetslade with plans spanning the academic year 2020/ 2021. Children for Year two and Year 3, totaling approximately 60 children per visit. The planned sessions will involve hands-on practical and fun activities, linked closely to elements of science and geography in the Key Stage 1 and 2 curriculum and also touch upon the history and coal mining heritage of the area.
Local schools support Restoring Ratty

Restoring Ratty (funded by The National Lottery Heritage Fund) is a project to restore water vole populations into the Kielder catchment of the north Tyne, with a view to their eventual spread throughout the catchment and surrounding areas. More than 1,400 water voles have been released thus far on the project.

An element of this unique conservation project, is to engage with local school children, aimed at years 4, 5 and 6, to teach the importance of protecting endangered species and sustainability.

The following activities are on offer (timings are suggested and we can be flexible around your requirements):

10:30 - 11:15 - Introduction to the project in the school hall at Kielder Primary School (coach parking is available)
11:15 - 11:45 - Early lunch so that the children won't need to eat after they have been to the stream
11:45 - 12:00 - Walk/drive to release site (depending on where we go we may still need the bus)
12:00 - 12:45 - Plodge about in the burn and look for tracks and trails, feeding remains and droppings
13:00 - Water vole games
13:30 - End

There is also a 1.5 mile self-guided Ratty trail starting and finishing at the Castle which you are welcome to undertake during your day. The trail is educational and children can collect rubbings along the way whilst answering questions (please note - you will need to bring crayons and paper to do this).

You can get a flavour for the types of activities that children can get involved in from the short video below, created by children and a local film maker Alan Fentiman, to celebrate the first year of the Restoring Ratty Schools Partnership Project.   

'Restoring Ratty' is a five-year partnership project between Kielder Water & Forest Park, Northumberland Wildlife Trust, Forestry Commission England and Tyne Rivers Trust, aimed at the reintroduction of water voles to the Kielder Water and Forest Park area of Northumberland. It has all been made possible by National Lottery players through a grant of £421,000 from the Heritage Lottery Fund (HLF). The Ratty team would be delighted to welcome schools to Kielder to undertake signs studies or survey work. Or alternatively the team is happy to run assemblies to talk to the children about water voles and our project. If your school would like to get involved, please contact the Ratty team by emailing restoringratty@northwt.org.uk.
Previous education projects
Out and About

Funded by the Out and About Community Foundation, the aim of the project was to connect children to nature, using Forest Schools techniques, including den building, mapping activities, looking at animal skins and skulls, trails, campfire cooking and species identification.

Northumberland Wildlife Trust worked with primary school children from five Newcastle schools: Hawthorn Primary, Our Lady and St Anne's RC Primary, Moorside Community Primary, Broadwood Primary, and Bridgewater Primary, with each school attending the wildlife charity's Forest School site at East Chevington for six outdoor sessions.

As an added bonus, a number of children used digital cameras to capture images of their Forest School setting and activities which they subsequently shared with school peers and parents as part of an end of year assembly. They also highlighted items they had made and talked more about their achievements with some children using power point presentations and videos.

Lynette Friend, Northumberland Wildlife Trust People & Wildlife Officer said: "The funding from the Community Foundation enabled us to take groups of children out into the great outdoors so they could experience a wild time for themselves, instead of watching it on the TV. With our last assembly delivered just a week before the Christmas break, it's a fantastic way to end the year! And who knows, sitting in one of the classes from the heart of Newcastle, there may be the next David Attenborough."
Save Our Magnificent Meadows

Save Our Magnificent Meadows is the UK's largest partnership project transforming the fortunes of our vanishing wildflower meadows, grasslands and wildlife. Led by Plantlife, the partnership is made up of eleven organisations and is primarily funded by the Heritage Lottery Fund.

Thanks to the HLF funding, NWT was able to deliver work with schools between April 2015 and April 2017. The project was designed to raise awareness of the value of whin and calaminarian grassland in the North East with three key objectives:

Promote understanding of the economic value related to minerals.
Relate everyday things to quarries/minerals/landscapes.
Increase children's knowledge about conservation associated with sustainable mineral use.

Northumberland Wildlife Trust worked with six local schools in total, hosting visits to two local quarries, Barrassford Quarry and Howick Quarry, offering school children a tour of the site and teaching them about extraction plus restoration of the site. Delivery was facilitated through direct observation during a tour plus interactive quizzes and trails. Each visit included a trip around the quarry, a fun treasure hunt and a talk on the whin grassland. There was also the chance to observe newts which live in the quarry habitat.
Wild West Project

Bringing nature and people together in Newcastle's West End.

In summer 2015, Northumberland Wildlife Trust and HealthWORKS formed a new partnership to begin a programme of engagement with local people in and around four public green spaces in the west end of Newcastle to help both organisations understand what role enjoyment of nature currently contributes to community health and wellbeing.

The project, linking into Edible Elswick, Greening Wingrove and Grainger Park, was made possible thanks to £12,800 from the Out and About Community Foundation and private donors, and delivered nine unique events supporting improved health and well-being across the west end.

Working with the Change4Life in West Newcastle Partnership, coordinated by HealthWORKS Newcastle, the project engaged with over 1,900 people of all ages and walks of life, taking many people on their first steps interacting with nature. The NWT team delivered diverse wildlife activities across four local parks including a fun Edible Elswick 'after dark in the park' event in Elswick Park which attracted over 100 local people.

The interactive wildlife events, focussed on encouraging outdoor physical activities such as bird spotting and listening to the dawn chorus, to trees and everything that lives in them, on them or underneath them.

Speaking about the project, Tracy Evans, Northumberland Wildlife Trust People & Wildlife Officer said: "This funding has been wonderful and has allowed people to do things which they would not normally have the opportunity to do, such as listening to night time sounds in Elswick Park or experiencing at first hand the dawn chorus in Nunsmoor Park. It's been incredibly rewarding working with local families and helping to build their connection with nature."