Bringing the water vole back to Kielder
The water vole - made famous through the 'Ratty' character in the Wind in the Willows children's story - was once a familiar sight on our local waterways but sadly numbers have declined dramatically in recent years. However, thanks to funding from the The National Lottery Heritage Fund and the support of partners in Forestry England and Tyne Rivers Trust, NWT is currently involved in a project to restore water vole populations into the Kielder catchment of the north Tyne, with a view to their eventual spread throughout the catchment and surrounding areas.
What we are doing?
Between 2016 and 2021, this project is reintroducing and establishing a source population of water voles which could then expand into the wider mink monitoring area. To achieve this, water voles are being collected from donor sites in the North Pennines, Yorkshire and Trossachs where suitable water vole populations currently exist. Through captive breeding, numbers will increase to ensure sufficient voles are available for reintroduction. Donor animals were collected during autumn 2016, with breeding taking place from spring 2017 and then the first release took place in June 2017. Since then, there have been a further six releases, with the most recent and final release in June 2020. To date we have released 1,762 water voles into Kielder Water and Forest Park.
Throughout this project, NWT volunteers and other partners have been undertaking the task of monitoring for the presence of mink in and around the Kielder Water Forest Park. This indicated that the area was virtually mink free and the environment was suitable for the reintroduction of water voles. We cannot however rest on our laurels as mink are always on the fringes of the area and could surface at any time, and as such, monitoring will continue throughout the remainder of the project.
The project has also allowed the team to install a series of interpretation at Kielder Castle and Kielder campsite. In addition, a Ratty self-guided rubbing trail has been created which starts from the castle (please bring along your own paper and crayons and follow the trail - it's about 1.5 miles in total). Please note: the Ratty trail is currently unavailable due to maintenance works at Kielder Castle, we hope to have it up and running again in spring 2021.
To follow the progress of the project, please follow the Restoring Ratty Facebook page or look out for blog installments from the Ratty team and volunteers here.
Videos
The Ratty team has been documenting our progress from capture to release and the following clips show the process and the frustrations and joy of working with wildlife!
Part 1

The video below was filmed as we captured water voles in the North Pennines and shows the process and the frustrations and joy of working with wildlife!
Part 2

The capture voles are transferred down to Devon where they are over wintered and bred in specialist facilities. The breeding will carry on throughout the project to allow a genetically diverse supply of voles to be released into Kielder.
Part 3

The big release! In June 2016 we released 320 voles into the area north of Kielder Village. This process took over a week and a lot of hard work by our brilliant volunteers, staff and project partners. The video below shows the process. A further release of 270 water voles took place in August 2017, and then subsequent releases were made in June 2018 and August 2018.
Why bring back the water vole?
This project will reintroduce an iconic British species, thought to be the UK's fastest declining mammal, to Kielder Water and Forest Park. Habitat loss, inappropriate wetland management and, principally, the introduction of the North American mink (Neovison vison) have all contributed to huge and continued water vole population losses since the 1960s. Populations fell by over 90% in the 1990s alone. The species has disappeared from 94% of sites where it was once prevalent. Kielder once had a thriving population and local residents can remember seeing water voles in the past.
How can you help?
We will be looking for further volunteers to help undertaking mink and water vole monitoring as well as helping out at events and with the releases. It would also be great to hear from landowners who would be happy to host and check a mink raft in the North Tyne and Rede valleys.
If you do spot water voles or mink in the Trust's catchment area please do let us know.
Engaging with local schools
Of all the staff and volunteers involved in our water vole releases,  probably the most excited project 'assistants' were 55 pupils from two schools (Terrington Hall School in North Yorkshire and Bellingham Middle School) who had the experience of a lifetime when they were invited to roll up their sleeves and help the project team with the releases. Read more about the work undertaken by the schools here. 
20 pupils from the Bellingham school were the envy of their classmates when they were invited to assist with the release and filming of water voles into the waterways of Kielder.  Check out the following short film, From The Mouths of Kids,  produced by local filmmaker Alan Fentiman, to celebrate the first year of the Restoring Ratty Schools Partnership Project.  
The Ratty team would be delighted to welcome even more schools to get involved in the project at Kielder, for example to undertake signs studies or survey work. Alternatively the team is happy to run assemblies to talk to the children about water voles and our project. If your school would like to get involved, please contact the Ratty team by emailing restoringratty@northwt.org.uk.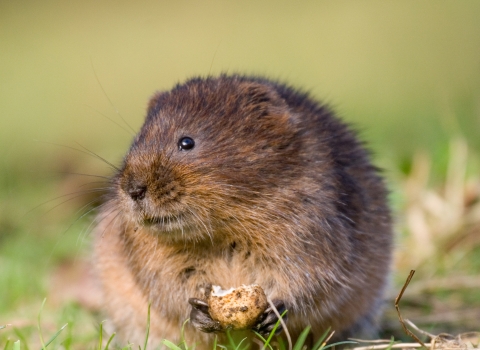 Become a Friend of Ratty!
Become a Friend of Ratty today and know that you are helping us to protect this wonderful creature for future generations.
Become a friend of Ratty
Although Restoring Ratty is partially funded by The National Lottery Heritage Fund we still need to raise more money to reintroduce water voles back to Kielder.  Your support will help towards the reintroduction itself, along with education and public engagement, needed to show off this stunning little creature!
You can now support the water voles by joining the new Friends of Ratty. For a minimum annual donation of £25 per year, you can help to protect these rare and elusive creatures for future generations. 
Friends will receive:
Stunning water vole greeting cards to share with friends and family
A re-usuable Restoring Ratty cotton shopping bag
A Restoring Ratty car sticker
A water vole pin badge
A kids water vole activity leaflet
A Restoring Ratty e-newsletter issued 3 times per year with the latest updates on the Kielder water voles
Complete this form to become a Friend of Ratty today to help us bring back Ratty so that future generations can see this rare creature.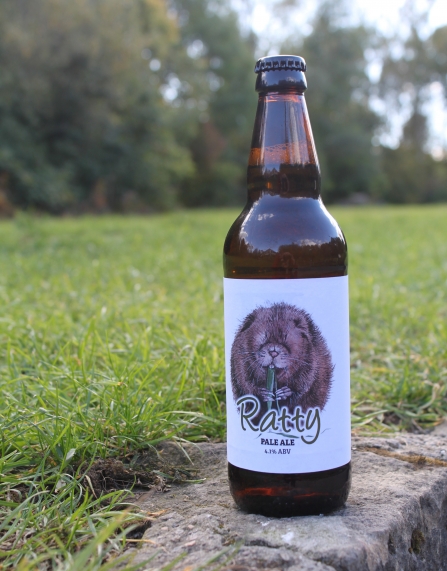 Ratty Pale Ale
As part of the project, The First & Last Brewery in Elsdon have labelled a delicious pale ale as 'Ratty' to mark the re-introduction of water voles into the Kielder area and are generously donating 20p from every bottle sold to the Restoring Ratty project. What's more, over the Christmas period they're making a donation for every bottle of F&L beers purchased by NWT members. Just use the code 'NWT2020' on checkout at www.firstandlastbrewery.co.uk
Stockists
Bottles of Ratty are available online via The First & Last Brewery website and from local stockists as follows:
Bottles

Beercraft (Kelso)
Bellingham Garage Services (Bellingham)
Belsay Shop (Belsay)
CentrAle (Newcastle Railway Station)
Coppers (Gosforth)
Duke's Pantry (Kielder Castle)
Forum Cinema (Hexham)
Mmm Glug (Newcastle)
Otterburn Mill (Otterburn)
Small World Café (Hexham)
Taste of Northumbria (Alnwick)
The Sill Discovery Centre (Twice Brewed)
Tully's of Rothbury (Rothbury)
West Woodburn Village Shop (West Woodburn)
Cask

This varies from week to week but regularly served at:

Heart of Northumberland (Hexham)
Rutherfords Micropub (Kelso)
Sun Inn (Acomb)
The Blackcock (Falstone)
The Boat Inn (Leaplish)
The Crown (Catton)
The Rat Inn (Anick, Hexham)
Partners
Funders

Restoring Ratty has been supported by a grant from The National Lottery Heritage Fund. Thanks to National Lottery players, we have been able to start work on the process to reintroduce Water Voles into Kielder. (www.heritagefund.org.uk)