It's not too late to bring our wildlife back
Sadly, since we first met Badger and friends in 1908, the UK has become one of the most nature-depleted nations in the world. The Wildlife Trusts have created an animated trailer of The Wind in the Willows, which brings to life the 21st century threats that would face the much-loved characters from Kenneth Grahame's children's classic in today's life.
On watching it, we hope that you'll be inspired to help put nature into recovery. We know it's not too late to bring our wildlife back, but we must act now.
Join our Wilder Future campaign and be part of a movement determined to make a difference for wildlife. We'll be sharing ideas for what you can do to help put nature into recovery. 
Badger, Ratty, Mole and Toad
Watch our favourite characters as they begin their search for Wilder Future:
Kenneth Grahame wrote The Wind in the Willows just over a hundred years ago. Since then, many of the UK's wild places and the plants and animals that depend on them have been lost. For example: 97% of lowland meadows and the beautiful wildflowers, insects, mammals and birds that they supported have disappeared; 80% of our beautiful purple heathlands have vanished - with their blaeberries, sand lizards and stunning nocturnal birds, nightjars.
Kenneth Grahame's Ratty – the water vole – is the UK's most rapidly declining mammal and has been lost from 94% of places where they were once prevalent, and their range is continuing to contract. Toad is also finding that times are very tough: he has lost nearly 70% of his own kind in the last 30 years alone – and much more than that in the last century.
Take local action for a Wilder Future
Join forces across Northumberland, Newcastle and North Tyneside for you to help us build a #WilderFuture. Act now so you and your family can connect with your local wildlife and learn about ways you can make a difference.
Contact your local MP
Speak up for wildlife! We need MPs to support a strong Environment Act that protects wildlife in our country. Please arrange a meeting with them and help us to talk to every MP across the UK. Collectively, we are a powerful force for change. Join forces with other individuals who, like you, understand that our precious wildlife needs protecting. Help us to give a voice to thousands of birds, insects and other animals across England who are finding it harder and harder to survive. And lets not forget that plants and trees that are under pressure too.
Find your local MP here

Newcastle upon Tyne Central, Chi Onwurah

0191 2325838, chi.onwurah.mp@parliament.uk

Newcastle upon Tyne East, Nick Brown     

0191 2611408, nickbrownmp@parliament.uk

Newcastle upon Tyne North - Catherine McKinnell 

0191 2290352, catherine.mckinnell.mp@parliament.uk

Blyth Valley, Northumberland - Ronnie Campbell       

01670 363050, campbellr@parliament.uk

Wansbeck, Northumberland - Ian Lavery      

01670 852494, ian.lavery@parliament.uk

Hexham, Northumberland - Guy Opperman          

01434 603777, guy.opperman.mp@parliament.uk

Berwick-upon-Tweed, Northumberland - Anne-Marie Trevelyan

0207 2194437, annemarie.trevelyan.mp@parliament.uk 

Tynemouth - Alan Campbell           

0191 257 1927, campbellal@parliament.uk

North Tyneside - Mary Theresa Glindon           

0191 234 2493, mary.glindon.mp@parliament.uk
Every space in Britain must be used to help wildlife.
More information
Why is nature in trouble?
More than half of the UK's species are in decline. Here is an overview of the main direct causes of significant trends affecting wildlife and habitats across the UK.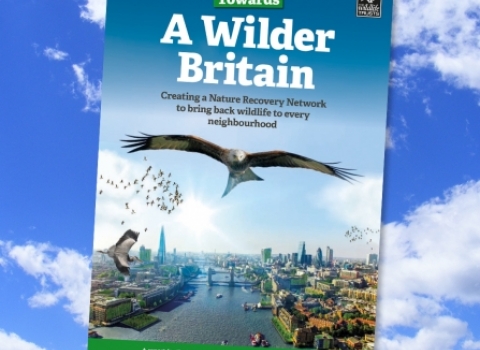 Towards a Wilder Britain
The Wildlife Trusts' report for the Government shows how we can bring back wildlife to every neighbourhood.
Read more