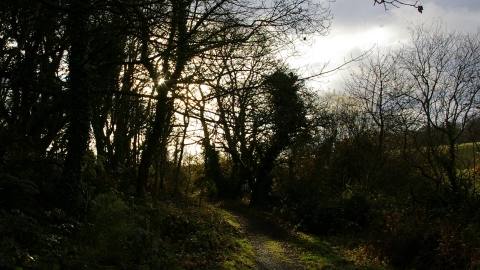 Please note: the footpath through our Arnold Memorial reserve is due to be closed for 5 months from Friday 16th November due to essential maintenance work. The closure has been requested by the County Council Highways Agency in the interest of public safety to facilitate the extension, resurface and repair of the car park.
This former quarry site returned to nature, comprises scrub and woodland providing a green haven for a wide variety of plants and wildlife.
Location
Know before you go
Entry fee
No
Parking information
Car parking in the public car park beside the reserve (charge applies).
Walking trails
The route through the reserve is well surfaced and level. The pathway through the reserve links Craster with Craster Tower and Howick Hall and joins up with the road leading to Cullernose Point.
Access
The main access is from the public car park in Craster via an opening behind the Tourist Information building. There are two further access points at the southern end of the reserve and from the west via a public footpath but these are by kissing gate which may not be suitable for people with special access needs. Please contact NWT for further information.
When to visit
Opening times
24/7/365
Best time to visit
All year round
About the reserve
The reserve, an old quarry, is within Craster Heugh, an outcrop of the Whin Sill (a tabular layer of the igneous rock dolerite in County Durham and Northumberland) that provides an important habitat for both migrant and breeding birds. The Sill tracks north from here to provide the vantage point for Dunstanburgh Castle a mile up the coast. The economic importance of the Whin Sill is apparent from the large quarry housing the car park behind the reserve as well as the smaller quarry within the site itself.
The maturing woodland, together with its coastal location makes the reserve a vital resting point for many winter migrants; a first call on the journey across the North Sea. Breeding bird species include sedge and willow warblers, chiffchaff and blackcap. Amongst the migrants, a number of rarities have been recorded including wryneck, icterine, reed and barred warblers, redbreasted flycatcher and bluethroat. The reserve is a moulting site for lesser redpolls. The woodland and scrub includes sycamore, ash, elm, Scots pine, elder and gorse with willow fringing the stream. Below the crags grow foxgloves, wood sage and lesser periwinkle, amongst other species. At the streamside are meadowsweet and water avens. There are patches of bracken and rosebay willowherb marking the sites of former gardens.
Habitat
Contact us
Northumberland Wildlife Trust