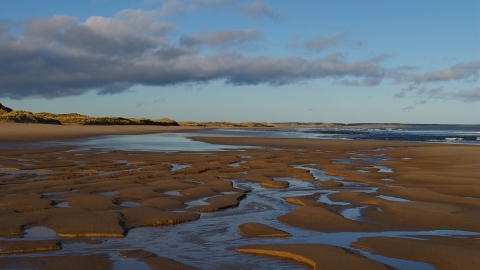 An interesting site for its geology, Cresswell Foreshore is a large wave-cut platform with many shallow rockpools attracting varied marine wildlife and wading birds.
Know before you go
Entry fee
No
Parking information
Local authority car park just north of the village.
Walking trails
The terrain is largely soft sand until the high tide mark is crossed, when the sand becomes firmer. From the main entrance, the paths are level, wide and firm. After the boat club, however, the path becomes soft sand which can be difficult for people with mobility problems. The entrance from the locked barrier is via a very narrow path which leads to soft sand. Finally, the entrance from Cresswell village is initially a wide, level surface which gives good views over the beach, but is then followed by 14 steep, concrete steps.
Access
The main access to the reserve is from the public car park north of Cresswell Village. From the car park a locked barrier leads onto a broad track (a gap alongside the barrier, 80cm wide, gives pedestrian access). A smaller public car park about 800m further north also gives access via a narrow, grassy track. The foreshore can also be accessed from Cresswell Village itself. The path down to the beach is indicated by a large noticeboard opposite the public toilets. However, this requires descending 14 steep, concrete steps.
When to visit
Opening times
24/7/365
Best time to visit
Please check tide times – when tide is on its way out this reserve is at its best.
About the reserve
Acquired by Northumberland Wildlife Trust in 2006, the site extends up to the sand dunes and is used by a wide variety of wading birds, including turnstone, purple sandpiper, sanderling and ringed plover. The gently sloping sand is backed by extensive sand dunes and can seem to go on forever at low tide. Unspoilt Cresswell beach (one of the best on the Northumberland coast) has achieved a Quality Coast Award and is listed in the Good Beach Guide.
At low tide, rocky patches are exposed which offer some great rockpooling. Five species of crab have been recorded, including the porcelain crab, and both butterfish and shanny have also been seen. There is a good variety of seaweeds, including kelp and the pink, feathery coral weed.
There are public toilets and a shop in Cresswell Village.
Habitat
Contact us
Northumberland Wildlife Trust
Environmental designation
Site of Special Scientific Interest (SSSI)