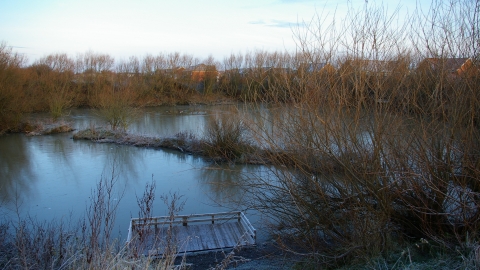 This small reserve, features scrub, pond and grassland attracting a variety of aquatic invertebrates including several species of damselfly.
Know before you go
Entry fee
No
Parking information
Access the site from Blagdon Drive, just off the A1061, or from Sandringham Drive. Parking is available for each entrance on the nearby roadsides, taking care not to block access to private houses.
Walking trails
There are paths around the site which are mostly level, and the surface varies from rough stone to grass and mud.
Access
The main entrance to the reserve is from Blagdon Drive (NE24 3NA), just off the A1061 in Blyth, where a wide, roughly surfaced track leads between the houses. This track leads to a padlocked 5-bar gate with a gap to the side. Once through the gap, the track continues before becoming a narrower muddy track. Access is also available from Sandringham Drive (NE24 3XA), in the local housing estate, where a tarmac path leads alongside the reserve. Off this path a grass and mud path leads directly into the reserve. The terrain is mostly level but some areas can be muddy in parts.
When to visit
Opening times
24/7/365
Best time to visit
24/7/365
About the reserve
Formerly a reservoir, this is now a partially infilled pond on the edge of Blyth, making up an area of a little over 1 ha, comprising pond, grassland and scrub. The pond is set in a steep-sided hollow, crossed from north-west to south-east by a large bore pipe, now broken in two places to leave an island. Most of the west, north and east banks are thickly covered in willow, providing cover for water fowl and small mammals, including water vole. The main (NE) section is about 2 metres deep in places. A dipping platform has been provided on the pond. Birds such as the pair of resident swans are favourites with local people.
Contact us
Northumberland Wildlife Trust