Award winning building featuring in mini-series
Northumberland Wildlife Trust's Hauxley Wildlife Discovery Centre will be featuring in a new online mini-series next week hosted by Sky Sports presenter Pete Graves.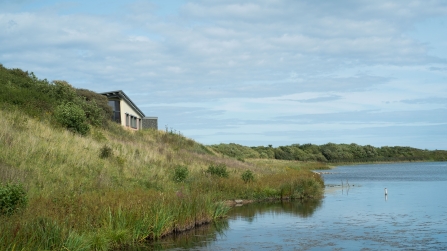 'Untold Stories: Northumberland' lifts the lid on how National Lottery funding is spent locally with each episode dedicated to an initiative that has made a life-changing impact on its local community.
The episode highlighting the Hauxley Wildlife Discovery Centre as a stunning space built and run entirely by volunteers, will air on Monday 11 March. It can found on YouTube at: www.youtube.com/watch?v=LPtRjdEDnKA and the National Lottery Heritage Fund Facebook page: www.facebook.com/LotteryGoodCauses
In 2012, Northumberland Wildlife Trust received support from National Lottery players via the National Lottery Heritage Fund to develop its Dynamic Druridge project that included a new Wildlife Discovery Centre on its Hauxley nature reserve. The Centre was opened in June 2017 by television presenter and wildlife cameraman Simon King OBE.
Jonathan Tuchner from the National Lottery said: "We are passionate about supporting projects and initiatives that we know have a real, tangible impact on people's lives. 'Untold Stories: Northumberland' sheds a light on the brilliant initiatives - and the local people behind them – that are using National Lottery funding to make a significant difference."