Camera-ready volunteers go wild for project
Anybody wanting to catch a glimpse of the natural beauty of Kielder without leaving the comfort of their sofa, can do so, courtesy of a short film made by Alnwick based film maker Alan Fentiman.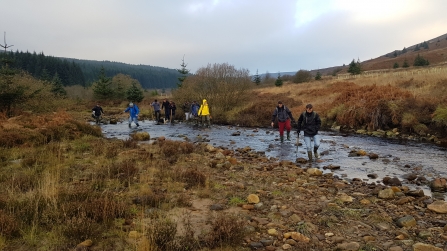 In the film, a group of Northumberland Wildlife Trust volunteers working on the 'Kielderhead Wildwood' project (which it manages in partnership with Forestry England), were captured planting downy birch, alder and scots pine at the top end of Scaup Burn, a tributary of the White Kielder river which runs into the Kielder reservoir.
The 3:45 minute film is an insight into an exciting and progressive project that is looking at ways to address one of the huge challenges of this age – catastrophic loss of plant and animal species.
The five year 'Kielderhead Wildwood' project, which has been made possible thanks to National Lottery players via a grant from The National Lottery Heritage Fund, is working towards establishing a low density, native upland woodland on 100 hectares of open heather moorland along Scaup Burn at Kielderhead.
The project's importance is immense as it will expand the population of what could be the only few remaining native English Scots Pines in the UK and offers the project team the opportunity to restore a characteristic Native Upland Pine Woodland Habitat, unique to England, and which thrived in prehistoric times.
Since the start of 2018, more than 70 volunteers of all ages have planted over 10,000 trees in all weather from snow and rain which made getting across the river to the site impossible at times, to the heat and midges last summer.
Speaking about the Kielder Wildwood project, Steven Lipscombe, Northumberland Wildlife Trust's Kielderhead Wildwood Officer said: "So much of conservation is about trying to protect what we have and trying to make sure we don't lose things; this project is about trying to create things and taking a look at what we're missing, what we could have in the future and taking the opportunity to put something back out there."
The film can now be viewed at www.nwt.org.uk/wildwood
Planting on the Project will soon be finished for 2019, with over 12,000 trees now planted on site; it is time to focus on the wider aims of the project.
Alongside the creation of a habitat attractive to native flora and fauna, the Kielderhead Wildwood team will be monitoring how effectively the project can achieve this and throughout the summer and into autumn will be monitoring birds, mammals, vegetation, bats and much more.
Anybody wishing to take part should contact steven.lipscombe@northwt.org.uk or visit the project's webpage at www.nwt.org.uk/wildwood.