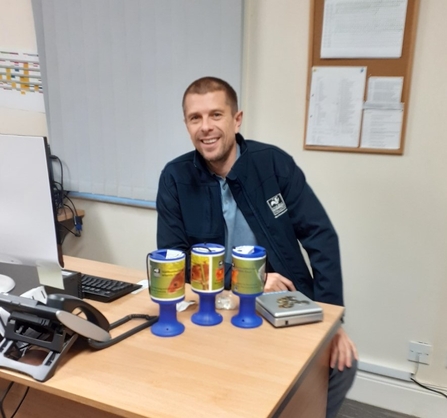 From 1 October 2019 - 31 May 2020, instead of charging an admission fee to its evening events, NCLA collected £147 in support of the wildlife charity's conservation work. The amount would have been more had the UK not been plunged into a national lockdown and all NCLA events cancelled.
Part of Newcastle University, NCLA is a centre of excellence in the field of creative writing. Each year, its events series showcases the best contemporary writing from prose fiction to scriptwriting and its annual Newcastle Poetry Festival offers a packed programme of readings, workshops, performances and panel discussions by pre-eminent poets from around the world.
The support was organised for Northumberland Wildlife Trust by Melanie Birch, Events Manager at NCLA, and no stranger to the work of the Trust, having been a conservation volunteer helping out at many of the Trust's nature reserves over the years.
Sinéad Morrissey, Director of NCLA says: "NCLA is delighted to have supported the Northumberland Wildlife Trust through our events series. By making our events free, we've opened them to everyone. Requesting charitable donations in place of the price of a ticket is a double way of giving back.
"Northumberland Wildlife Trust carries out vital conservation work in a county of outstanding natural beauty, and it's been a pleasure to have contributed to that work."
Accepting the donation, Dan Venner, Northumberland Wildlife Trust Director of Finance said: "Now, more than ever, charities are relying on donations from generous organisations and members of the public, so it goes without saying that we are grateful for the support from NCLA. Needless to say, the money will be put to good use across the region."
To find out more about NCLA visit: www.ncl.ac.uk/ncla.