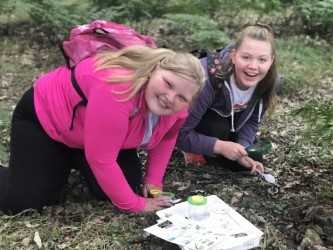 Two North East charities, Children North East and Northumberland Wildlife Trust, which both receive support from lottery players, organised the bug hunt at Northumberlandia.
The girls, aged between 11 and 18 belong to Your Future Matters – a mentoring project for young people run by Children North East in the Prudhoe area of Tynedale and the Blyth area of South East Northumberland.
Staff from Northumberland Wildlife Trust helped the group find different species of dragonfly, spiders, woodlice and other insect life.
Your Future Matters co-ordinator with Children North East, Rebecca George, said : "The girls had a fantastic day. We had a picnic, went mini-beast hunting and the girls did some den building."
Children North East is supported by players of  People's Postcode Lottery and the Your Future Matters project additionally received funding from the Government's Tampon Tax.