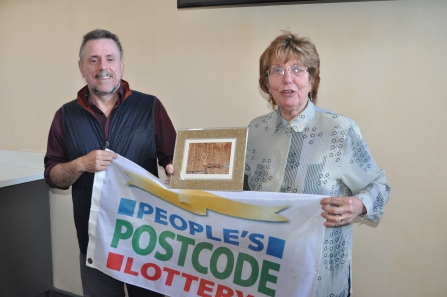 As a volunteer organisation, the wildlife charity relies heavily on the invaluable efforts of its volunteers without whom its work would be 100% harder. The annual Volfest is Chief Executive Mike Pratt's opportunity to lead the Trust in its thanks for all their hard work.
This year's event was held at the Trust's new Hauxley Wildlife Discovery Centre and included walks, talks and an update on its current top five projects.
Over 100 volunteers who had clocked up 70+ volunteering hours during 2017 each received an honorary membership courtesy of the players of People's Postcode Lottery and, as a special thank you, the efforts two volunteers were specifically recognised with an additional award.
Mary Lee and Christine Hall who both live in Morpeth have volunteered for the Trust for 13 and 6 years respectively.
Christine helped to build the Hauxley Wildlife Discovery Centre and volunteers in its brand new Lookout café as well as undertaking practical conservation work across the wildlife charity's 60 reserves.
Mary also volunteers in the Lookout Café two days a week, helps with the Hauxley bird counts, undertakes general estates tasks and has been a reserve warden at the Weetslade Colliery Country Park for over 10 years.
Speaking about the event, Mike Pratt, Northumberland Wildlife Trust Chief Executive said: "The players of People's Postcode Lottery are huge supporters of the Trust so it comes as no surprise that they have helped us thank another group of huge Trust supporters - our volunteers.
I am always humbled at this event when I see the dedication and passion the volunteers have for the Trust and the region's wildlife".