Church helps to protect the region's wildlife
Northumberland Wildlife Trust has received an autumn surprise from St Andrew's Church in the form of a donation of £225.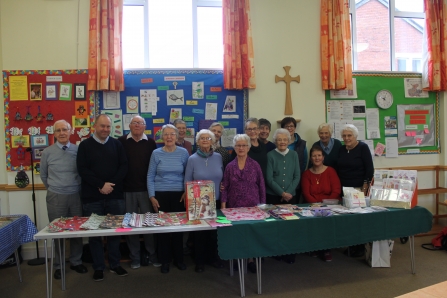 Every first Saturday in the month (except January) since June 2003, St Andrew's Church holds a fundraising coffee morning between 10:00 - 11:30am. In that time, over £30,000 has been raised.
A different charity is supported each month with funds being raised from cake, bric-a-brac, stationery stall, refreshments and a raffle. This year's charities have included Northumbria Blood Bikes, Youth for Christ, Guide Dogs for the Blind, Emmaus (homeless charity) and PCDC (Practical Compassion for Destitute Children in the Lands of the Bible
Northumberland Wildlife Trust was specifically chosen as stallholders had a strong desire to support a local environmental charity, having previously supported The Woodlands Trust.
The Methodist & United Reformed Church, situated on Station Road in Benton and led by Rev. Gavin Hume, is no stranger to all matters environmental having already secured a Bronze Eco Church Award and is currently working towards the Silver Award.
Part of the Eco Church Awards Scheme launched by A Rocha UK, Christian Aid and Tearfund, the Award enables churches to demonstrate how they are currently caring for the environment and to reflect on what further steps they can take.
Speaking about the donation and the church's support for the environment, Mike Pratt, Northumberland Wildlife Trust Chief Executive said: "I am delighted with the support we have received from the St Andrew's parishioners and am heartened by their support for the environment and their plans to make the church a green place to worship. They are a great example of the Trust's philosophy that if we all do a little bit for wildlife in our daily lives, it stands a better chance of survival.
Needless to say the money raised will be put to very good use as we work tirelessly to protect the wildlife in the region."