Coastal magic brought to your screen
You don't even need to leave your seat to enjoy the wonders of the Northumberland coastline as the team at 'Coast Care', the coastal initiative has created a short legacy film to showcase the project and all it has achieved.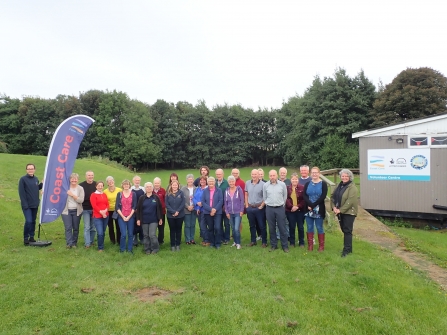 The 'Coast Care' initiative area is the coastal landscape from Amble in the south, to Berwick in the north, stretching west as far as Lowick, Belford and Alnwick. It supports trains and resources volunteers so that local people, communities and visitors are able to contribute to the management, conservation and development of our amazing natural and cultural heritage.
Volunteers look after the sweeping sandy beaches, rolling dunes, historic buildings, village greens and community spaces, farmlands and grasslands that make up our stunning coastal environment.
The initiative team, based at Seahouses is supported thanks to money raised by National Lottery players through a grant of £522,600 from the National Heritage Lottery Fund and is managed by Northumberland Wildlife Trust, the Northumberland Coast AONB partnership and Seahouses Development Trust.
The 9-minute film was created over the course of the last year by Coast Care volunteers and local professional film creator Alan Fentiman. Its aim was to capture the essence of the Coast Care initiative, and celebrate the achievements that have been made since it began in late 2017.
Speaking about the film, Becky Bass, Coast Care Project Manager says: "This legacy film encapsulates the incredible story of the volunteers, staff and partners working together to make a difference forever and has been an emotional experience for all involved.
"It was a real challenge fitting in the hundreds of photographs and film footage, whilst at the same time covering all the roles and projects the team has worked on, but most importantly, it comes from the perspective of the volunteers who I really can't thank enough for their time and commitment to the project."
This view was endorsed by Mike Pratt, Northumberland Wildlife Trust who says: "What a great achievement - making a film over the course of the year, which included a UK wide lockdown and worldwide pandemic, and showcasing the great spirit which the Coast Care initiative has created.
"At a time when all charities are facing real challenges, I would like to thank, National Lottery players and the National Lottery Heritage Fund, as, without them, the Coast Care initiative wouldn't have got off the ground and we would never have been able to conserve such a wonderful area of the United Kingdom."
You can follow the Coast Care initiative on Facebook www.facebook.com/Coast-Care-Northumberland.