Emma joins Coast Care team
The 'Coast Care' initiative area is the coastal landscape from Amble in the south, to Berwick in the north, stretching west as far as Lowick, Belford and Alnwick. It supports trains and resources volunteers so that local people, communities and visitors are able to contribute to the management, conservation and development of our amazing natural and cultural heritage.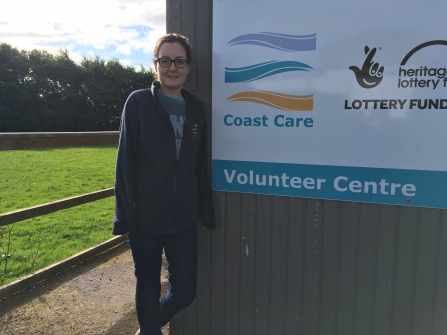 Volunteers look after the sweeping sandy beaches, rolling dunes, historic buildings, village greens and community spaces, farmlands and grasslands that make up our stunning coastal environment.
The initiative team is based at Seahouses it is supported thanks to money raised by the National Lottery players through a grant of £522,600 from the National Lottery Heritage Fund and is led by Northumberland Wildlife Trust.
Emma, who hails from Walsall in the West Midlands, but now lives in Alnwick, was educated at Leighswood School and Shire Oak Academy, before studying at Newcastle University for a BSc in Zoology then an MSc in Biodiversity, Conservation and Eco System Management where she wrote a dissertation on arctic terns on the Farne Island which led to her returning to the Farnes as a ranger up on graduation and living in the lighthouse.
Following her time on the Farnes, Emma worked for Tristan da Cunha Conservation Department and the RSPB as a field assistant on Gough Island in the South Atlantic, living in a South African weather station and collecting data on the islands seabirds.
Not content with living in a weather station, Emma has looked after terns at Kilcoole for BirdWatch Ireland and lived in a tent, camped in Sierra Leone whilst working as an RSPB research assistant in the Gola Rainforest National Park, before heading back to the serenity of life in Alnwick.
Speaking of her appointment, Emma said: "This is a great opportunity for me and it is nice to be back in the UK and in the north-east where I spent some wonderful years before heading off overseas. I am looking forward to working with such an enthusiastic team of volunteers."
Becky Waring, Coast Care Initiative Manager is delighted Emma has joined the team, she said: "Emma is a great addition to the Coast Care team. As the initiative goes from strength to strength with more volunteers joining up, Emma is looking forward to working with the volunteers on some fantastic project across this amazing stretch of coastline." 
Why not sign up for a Coast Care task by visiting www.coast-care.co.uk or pop along and meet her at one of the monthly coffee mornings held in the Seahouses Volunteer Centre on the last Friday of every month.
You can also follow the Coast Care initiative on Facebook at www.facebook.com/Coast-Care-Northumberland.