Getting back to work at East Chevington
Northumberland Wildlife Trust's Catch My Drift project team at East Chevington is delighted that, with the easing of lockdown restrictions, it has been able to invite a small number of its volunteers to help with its first major practical conservation task of the year - a series of tree planting sessions on the 185-hectare reserve.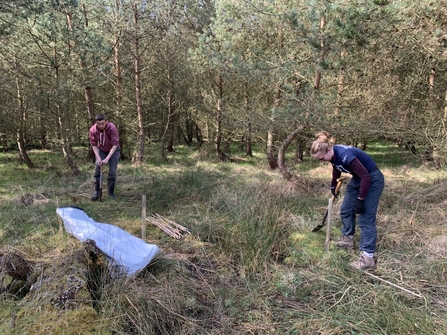 In accordance with current government guidelines on social distancing, only small groups of three and four volunteers were able to meet at each session to plant dozens of broadleaf trees such as hazel, goat willow and downy birch in areas of recently thinned scots pine plantations.
The ever-resourceful project team organised the volunteers into groups with one volunteer laying out the tree saplings where they were to be planted, another putting them into the ground with a third volunteer putting the protective tree guards on them.
The new trees will eventually increase woodland diversity and benefit a wider range of species of birds.
Elsewhere on the Druridge Bay reserve, a grant from the Ventient Sisters North Steads Windfarm Community Benefit Fund allowed the Catch My Drift project team to buy more trees, purchase a new chainsaw, and fund relevant chainsaw training for staff and volunteers enabling them to spend three days on the reserve thinning out the woodland.
Speaking about the sessions, Sophie Webster, Catch My Drift project officer said: "The support from The National Lottery Heritage Fund for the project is invaluable, not only for the future of the East Chevington reserve but for the health and wellbeing of our volunteers, many of whom have been counting down the days until they could meet up with each other and get some normality back into their lives.
"Likewise, the cash boost from the Ventient Sisters North Steads Windfarm Community Benefit Fund means we have been able to train staff and volunteers to help with the start of the roll out of our woodland management plan which will hopefully gather momentum once lockdown restrictions come to an end."
The Catch My Drift project is working to protect and revive threatened habitats and provide refuge for different species on the Druridge Bay site. National Lottery players via a grant from The National Lottery Heritage Fund support the project.