Glamourous glampers renew support for wildlife
At a time when many organisations are facing uncertainty and withdrawing their charitable support, Northumberland Wildlife Trust is delighted that award winning camping and glamping site Herding Hill Farm has signed up to be a Trust Silver Category corporate supporter for a second year.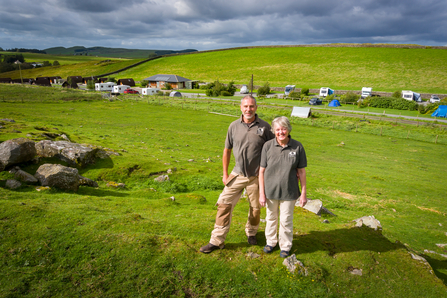 During the pandemic closure at the start of this year, staff on Herding Hill Farm which is situated one mile from Hadrian's Wall, set about renovating, re-painting and deep cleaning everything on the site in preparation for visitors returning in April when restrictions started to lift.
An indoor campers' kitchen and information room and additional serviced touring pitches have also been added together with seven new luxury pods which are scheduled to open winter 2021.
Even better, the site is within travelling distance of Northumberland Wildlife Trust's 11 South Northumberland nature reserves which are all open 24/7, free to visit and wonderful at any time of year.
Rated five-star by Visit England and recognised as AA COVID-19, the owners of the site are ever mindful of its location in an area of beautiful natural heritage with careful consideration being given to the location of all amenities, their materials and impact on the local environment as well as ensuring there is no light pollution as the site is a Dark Sky Friendly Park.
Speaking about the continued support, Mike Pratt, Northumberland Wildlife Trust Chief Executive said: "I am delighted Herding Hill Farm has renewed its membership of the Trust especially as it was affected by the pandemic and closed its gates to visitors for a number of months.  It's a great example of everybody pulling together and supporting each other.
"As a Trust we're always telling people to take staycations and think about their carbon footprint, rather than travel abroad, so what better way to enjoy your holiday time than by experiencing a bit of luxury whilst deciding which Trust reserve to visit first."
Jo Ritzema, Managing Director of WCF and the owners of Herding Hill, says: "Through our pet & equestrian stores we already support Cumbria Wildlife Trust and it is our pleasure to extend this partnership into Northumberland for the second year in a row."