Glamourous glampers support wildlife charity
At a time of economic uncertainty for many charities, Northumberland Wildlife Trust is delighted to welcome Award winning camping and glamping site Herding Hill Farm as its latest Silver Category corporate supporter.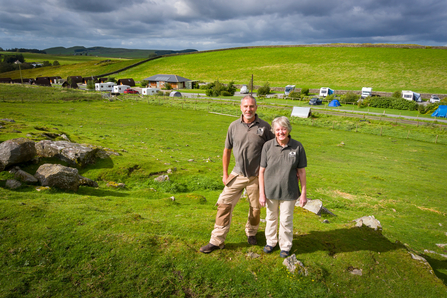 Rated five-star by Visit England and recognised as COVID-19 confident by the AA, the site offers stylish camping and glamping just one mile from Hadrian's Wall – all perfect for stargazing under the dark Northumberland skies.
The site offers guests an experience to suit all tastes and budgets, from large serviced gravel pitches for tourers and spacious grass tent pitches to wooden Wigwam cabins, some with private outdoor hot tubs, as well as a luxury lodge. The site has a licensed shop and award-winning luxury amenities building to cater for a guests' every need.
Ever mindful of its location in an area of beautiful natural heritage, careful consideration has been given with regard to the location of all the amenities, the materials they are made from and their impact on the local environment, as well as ensuring that there is no light pollution. The site is a Dark Sky Friendly Park.
In addition, the site is perfect for families, dogs, walkers and cyclists and is within travelling distance of Northumberland Wildlife Trust's 11 South Northumberland nature reserves.
For animal lovers there is a petting farm with alpacas, donkey, rabbits, guinea pigs, pig and a Shetland pony just waiting to say hello.
Speaking about the latest addition, Mike Pratt, Northumberland Wildlife Trust Chief Executive says: "It's so encouraging for us that the team at Herding Hill Farm is just as passionate about Northumberland as we are, so I am sure this is going to be a wonderful partnership.
"As a Trust we are always telling people to take staycations, rather than travel abroad, so what better way to enjoy your holiday time than by experiencing a bit of luxury whilst deciding which Trust reserve to visit in the area after an immersion in Roman history."
Jo Ritzema, Managing Director of WCF and the owners of Herding Hill, says: "Through our pet & equestrian stores we already support Cumbria Wildlife Trust and it is our pleasure to extend this partnership into Northumberland.
"The majority of guests who visit us are wanting to connect with nature, wildlife and the great outdoors and for many of our younger guests it can be their first time camping. The experiences they enjoy whilst holidaying with us may well shape their relationship with natural heritage forever."