Government gives badgers a reprieve
Northumberland Wildlife Trust is delighted that vaccination gets priority in the fight against bovine tuberculosis.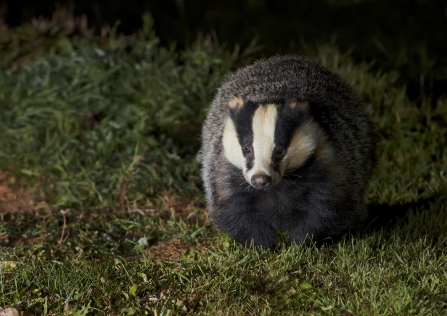 The Government has set out the next phase of its strategy to combat bovine tuberculosis. All 46 Wildlife Trusts, including Northumberland Wildlife Trust, who have campaigned for a halt to the badger cull ever since it began, are delighted with the Government's new approach.
Mike Pratt, Northumberland Wildlife Trust Chief Executive says: "We welcome the transition from culling to vaccinating badgers. The announcement is really good news. It's an open acknowledgement that culling badgers to control bTB is not a viable long-term strategy. It is hugely heartening to know that the large areas in which badgers have been vaccinated, most of which has been carried out by all 46 Wildlife Trusts, will be protected and potentially 'buffered' to ensure culling will not happen in those places."
The Wildlife Trusts have demonstrated that badger vaccination works: twelve Wildlife Trusts across England and Wales have conducted badger vaccination since 2011. The largest programme is run by Derbyshire Wildlife Trust and the National Trust who worked together with volunteers to vaccinate hundreds of badgers since their programme began in 2014. They have also delivered training nationally in partnership with the Animal and Plant Health Agency over the last two years.
Dr Jo Smith, CEO of Derbyshire Wildlife Trust, says: "Badger vaccination is a vital and viable alternative. The Government's new practical proposals for training more vaccinators will speed things up - that's good news for this much-loved mammal and great news for the farmers that want to get on with this too. Time is of the essence - we're looking forward to making this new approach happen as quickly as possible and building on our established vaccination programme in Derbyshire."
The Wildlife Trusts have long called for an end to culling, arguing that it makes more sense to:
Invest in and promote a strategy for badger vaccination – led and funded by Government
Invest more time and resource in supporting improved farm biosecurity and movement controls
Accelerate development of more effective tests for bTB in cattle and put serious investment into a bTB cattle vaccine
Northumberland Wildlife Trust is delighted to see that the Government is phasing out intensive culls in High Risk Areas and that these will be replaced by government-supported badger vaccination - for which adequate Government funding will be needed. It is also pleased that the Government has announced that it will continue to support existing vaccination projects, review the Badger Edge Vaccination Scheme funding evaluation criteria and support badger vaccination in those areas with incidence of bTB that have so far avoided the cull. 
There is robust scientific evidence to prove that badger vaccination reduces the transmission of bTB in badgers [1]. Several studies demonstrate that vaccinating badgers reduces the progression, severity and the likelihood that the infection would be passed on, once a badger is infected [2,3,4].
The Wildlife Trusts have opposed the badger cull since it first started and no Wildlife Trust will allow badger culling on its land.
For more information visit: www.wildlifetrusts.org/wildlife-and-wild-places/saving-species/badgers