Happy new year… happy new Wildwood
Staff working on the Kielderhead Wildwood project at Scaup Burn returned to work this week to the welcome news that the project had received £171 via seven donations over the Christmas holidays.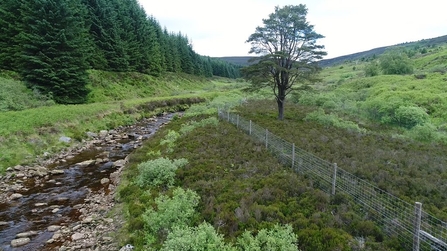 The five year Kielderhead Wildwood project is managed by Northumberland Wildlife Trust and Forestry England and has been made possible thanks to National Lottery players via a grant from The National Lottery Heritage Fund. It is working towards establishing a low density, native upland woodland on 100 hectares of open heather moorland along Scaup Burn at Kielderhead.
Speaking about the donation, Steven Lipscombe, Kielderhead Wildwood Officer said: "I am delighted with the Christmas donations from our generous supporters which have certainly lifted our spirits as we returned to work during continued disrupted times.
"During 2020, the work of the project was severely affected by the lockdown and for the first time in three years there was no planting on the site throughout April, May and June, but, we will continue with our mission to create a wonderful woodland which will be around once Covid has been consigned to the history books."
Anybody wanting to know more about the project or wants to get involved should contact Steven at steven.lipscombe@northwt.org.uk.