Hot weather continues to affect nature reserves
The hot weather, although glorious, is having an effect on Northumberland Wildlife Trust's 60 reserves, resulting in staff receiving telephone calls from concerned members of the public.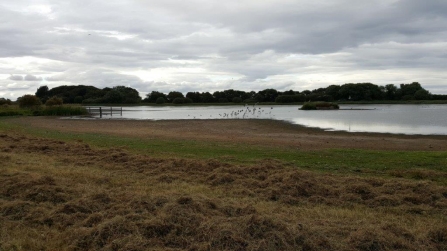 Although it may not appear so at first glance, the water level of the pond on its Holywell Pond reserve is starting to run low.
The low water level will result in the water being more stagnant as the nutrients will be concentrated into a small area. Stagnant water will cause algal blooms that are very dangerous to dogs jumping into the pond, toxic to wildlife such as foxes and deer drinking from the pond. It is deadly for plants in the pond, as they will be smothered and die, and, in the event of it completely drying up, the wildlife living within it will start to die very quickly.
Elsewhere, the peat is cracking on the Trust's Whitelee reserve a cause of great concern to the Trust's estates team. Once peat starts to dry out it reduces the ability to absorb water, thereby shedding carbon dioxide into the atmosphere exacerbating climate change and increasing the risk of flooding in the event of heavy rain. It also burns very easily.
The plants at Whitelee are very bleached with sphagnum which is normally bright red bleached almost white.
The wildlife charity is repeating its call for visitors to its reserves to take their cigarette butts and lighters home with them and to be on the lookout for broken bottles which, in the current high temperatures, act as magnifying glasses and can spark a fire in a couple of hours.