Jess launches wildlife recycling scheme
Northumberland Wildlife Trust is calling on wildlife lovers to support a new recycling campaign, launched this week by Jess, the charity's FlexiGraze Welsh Collie, who donated a mobile phone and charger on behalf of her owner, Longhorsley farmer Stephen Comber.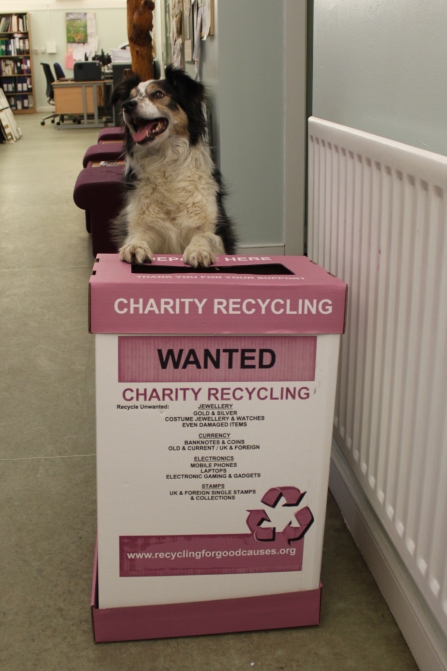 Working in partnership with the Recycling for Good Causes organisation, the wildlife charity now has recycling donation boxes located in The Lookout Café at its Hauxley Wildlife Discovery Centre, the Northumberlandia Visitor Centre and the reception area of its St Nicholas Park head office in Gosforth, Newcastle. A donation box will also be positioned alongside the Northumberland Wildlife Trust recruitment stand at fairs and shows around the Region.
Anybody wishing to donate jewellery, banknotes or used stamps can post the items (free of charge) in an envelope or jiffy bag, direct to Northumberland Wildlife Trust. A Freepost label is available below.
Recycling for Good Causes recycles unwanted items on behalf of charities including unwanted watches and jewellery (anything from plastic beads to old broken gold chains); gadgets (such as cameras, games consoles, mobile phones, sat navs and MP3 players); old currency (UK and foreign) and used stamps.
There are experts in place to ensure that all items received are individually assessed to ensure the charity receives the highest price possible for all items donated whilst saving precious raw materials at the same time.
Speaking about the new partnership, Liz Lovatt, Northumberland Wildlife Trust's Marketing Officer said: "How many times have we put old stamps in the bin, dropped foreign coins into a drawer after a holiday or bought a new mobile phone and put the old one in a cupboard for it never to see the light of day again?
"Now, thanks to our partnership with Recycling for Good causes, these items can be dropped into a donation box at one of our main centres or posted to us free of charge. Every item donated, no matter how small, will help us fund our vital conservation work."