Joel's back for more with wildlife charity
Northumberland Wildlife Trust's Catch My Drift project at East Chevington has a new trainee reserves officer - just in time for spring.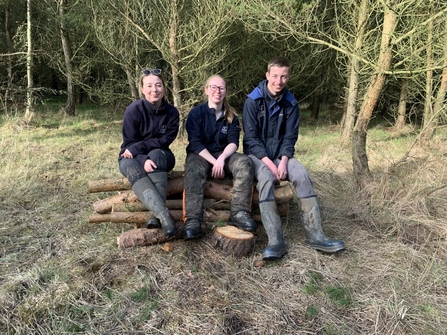 Joel Ireland, who hails from Leeds, joins the project following a degree in Wildlife Conservation from Nottingham Trent University.
Keen wildlife photographer Joel He is no stranger to the wildlife charity, having previously spent his student placement year with them in 2018 and 2019 with the Kielder Living Landscape team working on the Kieldherhead Wildwood project and had the enviable job of helping to release water voles into the waterway of Kielder with the Restoring Ratty project team.
The Catch My Drift project, which last year received a funding boost of £415,800 from players of the National Lottery via a grant from The National Lottery Heritage Fund, is working to improve biodiversity and reconnect people with nature at the East Chevington reserve on Druridge Bay.
In a typical year, the site attracts 10,000 visitors and is home to nationally and internationally significant species such as marsh harrier, red squirrels and great crested newts.
Although Joel will be based at Northumberland Wildlife Trust's Hauxley Wildlife Discovery Centre, working with the rest of the team, his project trainee role will see him learning practical skills such as reed bed, meadow and woodland management and carrying out brush cutter and chain saw work. He will also be taking part in survey work and leading volunteers on survey tasks on the 185-hectare site.
Once restrictions are been lifted - hopefully this spring - he will also be out-and-about helping to host public information and awareness sessions in the area, talking to local groups and meeting visitors to the reserve.
Speaking about his return to the wildlife charity, Joel said:
"I absolutely loved my student placement with the Trust so jumped at the chance to return. I've swapped Kielder Forest for a site containing lakes, ponds, reed beds, woodland, meadows and farmland, so I think it's safe to say no two days will be the same.
"I'm also really looking forward to the easing of lockdown restrictions and getting involved in all the community events we have planned around the reserve and local area."