Leaf in memory of wildlife loving Roger
A leaf in memory of a Seaton Burn resident has been placed on Northumberland Wildlife Trust's Giving Tree at its Hauxley Wildlife Discovery Centre on Druridge Bay.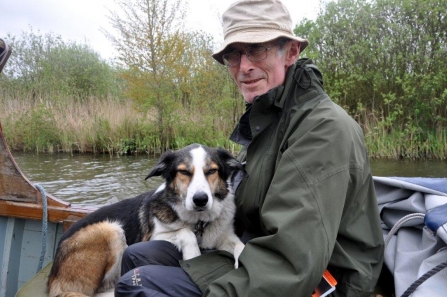 Launched in 2018, to commemorate a special person or event, the leaves on the specially designed tree are inscribed with an individual message and remain on the tree as a lasting memento. 
Marge Craig placed the latest leaf in memory of her late husband Roger Broughton who, as a nature lover had visited many of Northumberland Wildlife Trust's reserves. He and Marge lived in an eco-friendly wooden house, sourced from the same Finnish forests as the earlier Hauxley centre. He put up many birdboxes around the garden and in the nearby woods, and was a well-known local figure litter-picking on walks with his dog.
Roger worked in the 1960's for Swan Hunters, generating an operating system for the IBM System 360 Model 30 computer, with which to write the first computer programme for ship design.
For the following 40 years, Roger worked at Newcastle University Computing Service where he witnessed the huge developments in computer technology. He had the foresight to save historic artefacts, photographs and documents and created a set of explanatory web pages: a 'Virtual Museum' which can be found at http://moca.ncl.ac.uk, and form part of a permanent display of the Historic Computing Artefact Collection.
Reminiscing about her husband, Marge Craig says, "As Roger grew older, we often visited bird hides, and the Trust's Hauxley Reserve was very special to him, so it is only fitting that I place a leaf in his memory on the Hauxley site."