Please remember your vital natural health service on #GivingTuesdayNow
Northumberland Wildlife Trust is calling on members of the public not to forget the natural world, which is vital to the mental and physical wellbeing of so many people at the moment, on #GivingTuesdayNow in Global Day of Giving and Unity.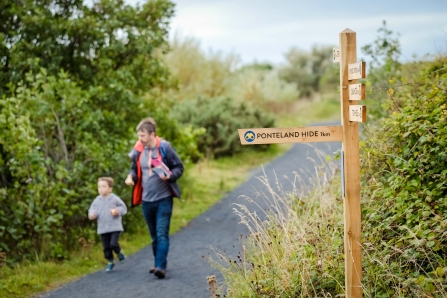 #GivingTuesdayNow is a global day of unity and generosity, taking place on 5 May, 2020 as an emergency response to the unprecedented need caused by COVID-19.
Research by the Charities Aid Foundation which leads #GivingTuesday in the UK has found that many charities are struggling to survive due to COVID-19, with 37% saying they will not be able to last beyond 6 months. It also found that there are significant levels of generosity, with more than half of people saying they expect to help their neighbours or friends with shopping/errands or check on their vulnerable or elderly neighbours.
To shine a spotlight on this incredible generosity and to support charities at this difficult time, CAF has launched this special #GivingTuesdayNow as a chance for people to show their gratitude to all the people who have supported us through these difficult weeks - including their local green spaces where they have been able to escape their fears about the coronavirus.
With fundraising events cancelled and many volunteers self-isolating, charities are facing an uphill struggle to continue to be there for those in need.
This #GivingTuesdayNow is a day to thank everybody including charities.
In this region, Northumberland Wildlife Trust which operates in Newcastle, Northumberland and North Tyneside has seen valuable volunteers forced into isolation, face to face membership recruitment put on hold and its Easter and spring fundraising events at Northumberlandia in Cramlington and Hauxley Wildlife Discovery Centre on Druridge Bay cancelled.
Such annual events generate £1,000s of much needed funding to the charity which relies on charitable donations and money raised by its events.
In addition, The Lookout Café within the Hauxley Wildlife Discovery Centre, which employs local residents and is a much welcomed meeting place for hundreds of retired people each week, has had to close resulting in a massive additional loss of much needed income.
Sheila Sharp, Head of Fundraising and Marketing at Northumberland Wildlife Trust says: "When people think about charities at this time they may not think of a wildlife charity, but to put it into perspective, the Trust is protecting many of the green spaces which people are now visiting each day to try and relax and forget about the chaotic state of the world.
"Charitable donations fund our teams of estates officers and volunteers who head out each day to protect these valuable green spaces - our natural health service where there aren't any waiting lists and you are always guaranteed a bed on the grass under the stars. So if you have a bit of spare cash because you are not paying your bus or metro fares during lockdown and would like to donate a small amount from your savings, we would really appreciate it."
Anybody joining Northumberland Wildlife Trust's #GivingTuesdayNow efforts can visit www.nwt.org.uk/donate to show their support.
For more details about the Giving Tuesday UK movement, visit the Giving Tuesday UK website (www.givingtuesday.org.uk), or follow @GivingTuesdayUK and #GivingTuesdayNow on Twitter, Facebook and Instagram.