Pupils supporting a vole new world
Fundraising efforts by pupils at Westfield School in Newcastle are helping with a project to bring water voles back to the region.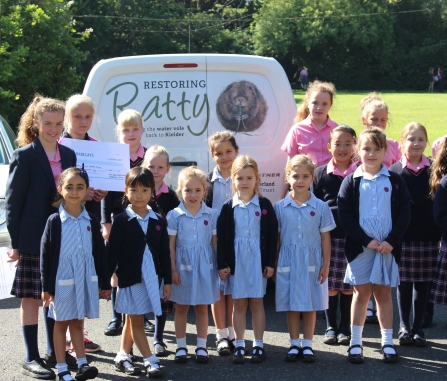 At the start of the year, the girls of Tweed House at the Gosforth based school selected Northumberland Wildlife Trust, also in Gosforth, as its chosen charity for the year.
The 24 girls aged between five and 11 then spent the spring term making cakes, biscuits, cards and bookmarks which were then sold, raising £200 in support of the 'Restoring Ratty' water vole reintroduction project, a five-year partnership project aimed at the reintroduction of water voles to the Kielder Water and Forest Park area of Northumberland.
The water vole was once a common and familiar mammal along our ditches, rivers and streams. Unfortunately, habitat declines, pollution of waterways, industrialisation of agriculture, housing development and predation by American mink that escaped from fur farms, have all led to severe water vole decline since the 1960s.
To say thank you for all their efforts, Kelly Hollings, Restoring Ratty Project Officer surprised the girls with a morning assembly at the end of the summer term where she talked about water voles, the work of the 'Restoring Ratty' team, demonstrated the equipment used and rounded it all off with a film about the latest water vole release in Kielder at the end of June.
Accepting the cheque from House Captain Millie Heddon Lane-Fox and
Vice-Captain Anna Gregory Peel, Kelly said: "Wow! I would like to say a massive thank you to the girls for selecting Northumberland Wildlife Trust as their charity of the year and what a great start to our water vole work this summer. It was wonderful to see such enthusiasm from the girls, who after all, are the wildlife champions of the future. I wish I had filmed their sheer delight when they saw the photos of the baby water voles - it was priceless."