Ratty calling on Co-op shoppers for support
Northumberland Wildlife Trust is calling on Co-op shoppers in Bellingham to support the region's water voles via the Co-op Local Community Fund.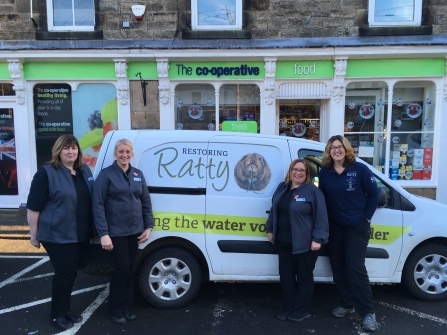 Each time a member shops at their local Co-op store throughout the UK, 1% of what they spend on selected own-brand products and service goes to the Local Community Fund. Members can then go online and select which cause they want their own 1% to go to, with the money raised together with money from carrier bag sales helping local projects. 
Every year the Co-op Group chooses a new list of local causes and this year, the great news is the Kielder based Restoring Ratty water vole project is set to receive member funds from 27 October 2019 until November 2020.
The Restoring Ratty project began in 2016 with a captive water vole breeding programme in Devon and, since June 2017, 1498 water voles have been released into the waterways of Kielder.
In addition, the project has engaged with 857 children from inner city Newcastle as well as local schools such as Bellingham middle School and Kielder Primary School. Schools from further afield in Yorkshire and Devon have also got involved with Ratty.
Speaking about the Restoring Ratty project being one of the local causes, Kelly Hollings Restoring Ratty Project officer said: "This is wonderful news for us. As a Bellinhgam shopper, the Bellingham Co-op is a real hub of the community and vital to people living in the area, so come on shoppers, help us to continue bringing Ratty bring the Kielder area by visiting www.coop.co.uk/membership and making us your cause next time you do your shopping.
"For an insight into our school engagement programme, brighten your day with our brilliant four minute video on youtube: https://www.youtube.com/watch?v=uLoJuyc-f4Q."
'Restoring Ratty' is a five-year partnership project between Kielder Water & Forest Park, Northumberland Wildlife Trust, Forestry England and Tyne Rivers Trust.