Ratty seeks advice from young experts
Pupils at Kielder First School are no strangers to water voles, having been involved in the 'Restoring Ratty' water vole reintroduction project with Northumberland Wildlife Trust, Forestry England and Tyne Rivers Trust.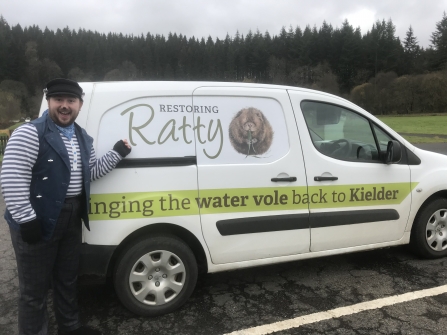 However, imagine their surprise when a real life walking, talking, singing Ratty scurried into their school this week.
The Ratty in question was actor Adam Donaldson, one of the stars in the upcoming Wind in the Willows musical at the Tyne Theatre & Opera House, Newcastle that is being staged by Starlight Theatre Productions. 
The musical, written by Julian Fellowes of Downton Abbey fame book has great songs by George Stiles and Anthony Drewe features the larger than life Mr Toad and his friends Ratty, Badger and Mole, a young otter called Portia and a gang of naughty weasels.
Arriving in style in the Restoring Ratty van (of course!), Adam chatted to the children to find out about their involvement in the Restoring Ratty project before telling them about life with Toad, Mole and Badger and teaching the entire school a song from the show. 
Being the creative water vole that he is, he rolled up his sleeves to help staff and children with their arts and crafts session.
Worn out and weary from his time in the school, Adam sampled a much welcome bottle of Ratty Ale which has been produced by Sam and Red Kellie at The First & Last Brewery in Elsdon in support of the project, before being driven back (Ratty doesn't drink and drive) to rehearsals for the show.
The show runs from Tuesday 19 - Saturday 23 November, 7pm each day plus a 2pm matinee on Thursday (21), Friday (22) and Saturday (23) November.