Remember, remember hedgehogs this November!
It is that time of year when Northumberland Wildlife Trust issues its annual plea for people to put hedgehog spotting on their checklist before lighting their bonfires this year.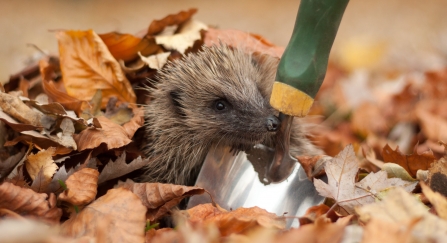 Now the weather is turning cold, wet, dark and windy, this is the time that hedgehogs start looking for places to hibernate and, to our little prickly friends, an unlit bonfire is equivalent to a five-star hotel!
The wildlife charity is advising people to help protect hedgehogs by following a few guidelines when building a bonfire:
Build the bonfire as close to the night as possible so there is less chance of a hedgehog moving in
Make the pile of material next to the bonfire site and re-build the stack before lighting it
Search the bonfire for hibernating creatures using a torch and rake before starting the fire
Move any hedgehogs found to a ready-made hedgehog box somewhere dry and safe and away from the fire
Before Bonfire Night, make an alternative home by raking up grass cuttings or autumn leaves into a pile a safe distance from the pile; hopefully sleepy 'hogs will choose to sleep there instead of in the unlit bonfire.
Geoff Dobbins, Northumberland Wildlife Trust Senior Estates Officer said: "To a hedgehog looking for a place to sleep, an unlit bonfire is a ready-made five star hotel. We are urging people to give inspecting their bonfires top priority before lighting them. It only takes a minute to do but can save hundreds of hedgehogs from an unnecessary death."
He continued: "Hedgehogs are great friends to gardeners as they are natural pest killer. However, numbers are in decline due to increased pesticide use and we need to do all we can to help them.
Hedgehogs need garden habitats that mimic woodland so try and provide a few twiggy places for hibernation - small piles of logs and leaves are ideal and don't keep your garden too tidy - and what an excuse not to do the garden! Remember, remember hedgehogs this November!"