Scones al fresco at Hauxley reserve
Whilst some people eagerly awaited the reopening of hairdressers, beauty salons, gyms and pubs, visitors to Northumberland Wildlife Trust's Hauxley Wildlife Discovery Centre have been eagerly awaiting the return of the wildlife charity's Hauxley scones usually served in the Lookout Café.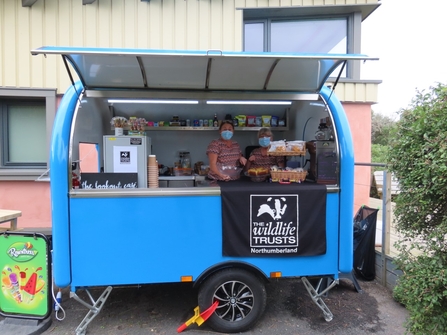 Now, thanks to funding from the National Lottery Emergency Fund, the wildlife charity has been able to purchase an outdoor (mobile) catering unit as the café remains closed for the time being.
Situated at the side of the Hauxley Wildlife Discovery Centre (which remains open), the unit, open six days a week from 10am - 4pm, will be stocked with a fabulous menu of soup, cakes and hot and cold drinks. Top of the menu will be the quirky range of scones, made daily on the premises by the café team and a huge hit with visitors.
Since it opened three years ago, the staff have experimented with dozens of flavours, and it will come as no surprise that lockdown has generated a few more varieties created by the café staff.
So, will there be a Sunak Surprise, Johnston Jaw Breaker or Hancock Hoolie? There's only one way to find out!
Head to Hauxley and, while you're there, take in the wildlife on the lake making the most of the last days of summer before heading off to warmer countries without any worries about quarantining.
Visit www.nwt.org.uk/hauxley-wildlife-discovery-centre and the Hauxley Wildlife Discovery Centre Facebook page for all updates.