Step forward to become a Coastal Path Warden
Walkers on the Northumberland coast are being asked to become voluntary wardens to help maintain their favourite sections of the Northumberland Coast Path and other walking routes.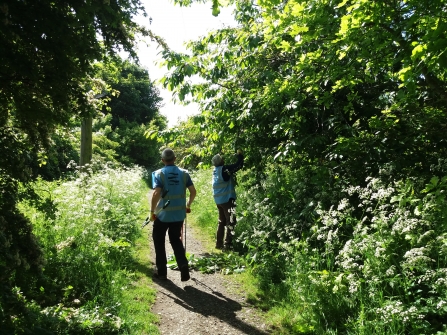 Iain Robson from the Northumberland Coast Area of Outstanding Natural Beauty (AONB) Partnership who manages the trail said: "We want people who regularly walk a section of trail or paths in their area to help us keep them open and easy to use.
This includes cutting back vegetation, picking up litter, replacing way markers and other simple maintenance. Walkers will also be the 'eyes and ears' of the coast, reporting more serious issues to the Path Officers at Northumberland County Council. There will also be opportunities to join other wardens on bigger maintenance jobs."
The path wardens will be fully trained and supported by Coast Care, the volunteering initiative which is a partnership project managed by Northumberland Coast AONB Partnership, Northumberland Wildlife Trust and Seahouses Development Trust, supported thanks to money raised by National Lottery players through a grant of £522,600 from the Heritage Lottery Fund (HLF).
Ivor Crowther, Head of the HLF in the North East said: "The Northumberland Coast Path attracts thousands of walkers every year who come from across Europe and beyond to walk along the beautiful Northumberland coastline. Thanks to National Lottery players, local people who are passionate about their favourite section of the trail can help to look after it for the benefit of us all which is just what we wanted to see from Coast Care."
Volunteers will receive some basic training before being assigned a length of the trail to look after. Other volunteers are needed to monitor the wider rights of way network in their Parishes.
If you are interested in becoming a Northumberland Coast Path Warden or Parish Path volunteer, contact Coast Care via the website www.coast-care.co.uk or email info@coast-care.co.uk or call 07813 563047.