Twenty-thousand reasons to celebrate
Coast Care, a volunteer initiative based in north Northumberland ended September celebrating two significant milestones.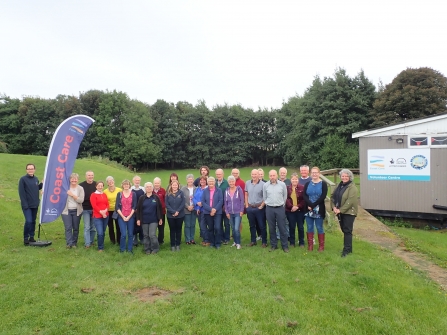 The initiative, which is initially funded for three years, by the National Lottery Heritage Fund, has reached a significant milestone - two years of volunteer engagement.
From September 2017 to September 2019, over 1200 people volunteered over 20,000 hours of their time to assist with the initiative.
Volunteers have ranged from people who are holidaying in the area and offered to lend a hand for a couple of hours, corporate companies such as Sainsbury's Alnwick store, Axa Insurance, Environment Agency, EE, Savills, Virgin Money and Leeds Building Society sending a team to work on a task for the day to our stalwart volunteers who are regularly volunteering. 
One volunteer has dedicated over 1100 hours to assist with ecological monitoring and data recording across farmland, wetlands and coastline. 
Coast Care has offered over 295 group volunteering activities which have seen people assisting with practical conservation tasks including beach cleans, invasive species removal grassland and wildflower management, dune stabilisation, improving public access, protecting threatened species and habitat creation in a number of areas including: Alnmouth Common, Bamburgh Castle Estate, Boulmer, Embleton Quarry Nature Reserve Seahouses Heritage Trail and the grounds of Seahouses Primary School.
Ecological monitoring and recording forms a significant amount of volunteers' time and efforts. Tasks have involved surveying a variety of species that included winter and breeding farmland birds across ten farms as well as surveying for red squirrels, bats, bumblebees and butterfly, plus a barn owl nest box programme.
Volunteers have also recently mapped and removed pirri pirri bur - a non-native, fast growing, invasive plant species across the area of the proposed new England Coastal Path to reduce the spread across to other areas.
A network of 58 voluntary 'site wardens' has been established to help look after their 'patch' of coastline which involves keeping the areas clear of litter, monitoring coastal erosion and reporting any issues which can't be tackled by themselves.
A team of 'footpath monitors' assist Northumberland County Council's Rights of Way team, helping to keep public footpaths and bridleways accessible and safe for public use. 
Feedback from volunteers is that Coast Care has given people the sense of making a difference, an opportunity to meet new people and make friends, the feeling of being part of a team, learning and developing skills, having fun and doing something worthwhile.
Volunteers celebrated with a fish and chip lunch with Coast Care staff and partners to celebrate these milestone successes. 
Cllr Jeff Watson, Chair of the Northumberland Coast Area of Outstanding Natural Beauty Partnership said "This remarkable milestone of Coast Care volunteers having contributed so much time to the conservation and enhancement of this very special place is testament to the pride that local people have in their Area of Outstanding Natural Beauty. 
"I never cease to be amazed by the effort and energy that people put in to making sure that the wildlife of the Northumberland coast thrives, the historic environment is protected and the area is a clean and accessible place for local people and visitors. We simply couldn't do this without the amazing support of our volunteers."
Coast Care is looking to recruit more volunteers to get involved with the initiative. If you are interested in finding out more or would like to see what volunteering opportunities are coming up please visit www.coast-care.co.uk or contact the team on info@coast-care.co.uk / 07813 563047.