Twenty-nine visitors from the Amicale Héry-Shilbottle Association in France have visited Northumberland Wildlife Trust's Hauxley Wildlife Discovery Centre as part of its 56th anniversary celebrations.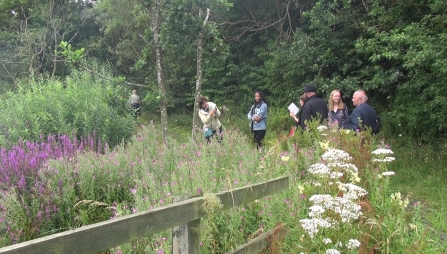 The Association, which was formed in 1963, is a friendship group between the villages of Shilbottle in Northumberland and Héry, approx. 100 miles south east of Paris.
Members of the French group visit Northumberland every other year where families in the village and surrounding area play host to them.
When planning visits around Northumberland, the Shilbottle residents are always keen to share local places of interest with their guests and look for places that can offer a variety of things to do as well as catering for the wide age-range, interests and accessibility needs.
Two years ago when the visitors last visited the region the wildlife charity's Hauxley Wildlife Discovery Centre had only just opened and couldn't be added to the Group's 2017 itinerary.
Fast forward two years and the visitors, aged from 10 - 89, were this week able to see first-hand how a former opencast site had become a beautiful wildlife reserve as they were taken on a walk around the site, tried their hand at brass rubbing, took in the resident wildlife from two wildlife watching hides and marvelled at the record number of painted lady butterflies which had been seen in large numbers at the reserve over the preceding days.
The trip ended with an opportunity to sample the Lookout Café's famous cheese scones, which are made fresh on the premises each day.
Speaking about the visit, Jenna Berry, Hauxley Wildlife Discovery Centre Visitor Experience Officer said: "Since we opened over two years ago we have welcomed people from all over the world, but never a group as large as this. We are delighted the group enjoyed themselves so much and look forward to greeting them, and maybe their fellow members, again in 2021."