Wildlife charity vice-chair to travel to Westminster to lobby MPs
The vice chair of Northumberland Wildlife Trust is preparing to travel to Parliament to call on MPs to secure ambitious new laws which will halt nature's decline and secure the recovery of wildlife and natural places across the UK.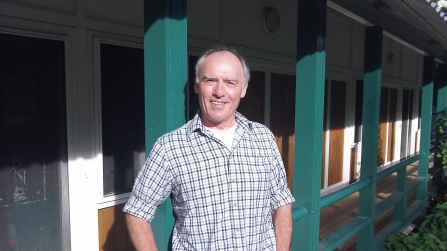 Graham Gill will travel to Westminster on Wednesday 26 June. There, he will join over 14,000 people from across the country, including Wildlife Trust supporters from other regions, from school children, young people and wildlife volunteers to farmers, councillors and doctors - urging MPs to back immediate action for wildlife and climate change.
The organisers of The Time is Now mass lobby are calling on politicians to ensure the upcoming Environment Bill includes ambitious targets for wildlife and a legally-binding Nature Recovery Network. It will also call on politicians to support immediate measures aimed at achieving 'net zero' greenhouse gas emissions, following the Government announcement that it will set in law a target to achieve this by 2050.
Until recently, Graham, who was the Forestry Commission's Forest District Manager at Kielder as well as a trustee and latterly vice-chair of Northumberland Wildlife Trust is travelling from Thorngrafton in Hexham. He said: "We depend on the natural environment for everything: from agriculture, to the places we work, live and relax in, to the very air we breathe. The actions we have taken over the last 100 years are catching up with us and having drastic effects on our natural world, and consequently, us.
"We are facing the mass extinction of countless, amazing species, which future generations will never have the chance to marvel at. We need to step up now and take care of the planet that has taken care of our every need throughout human existence. According to leading climate experts, we have just 12 years to do something about climate change before it becomes irreversible. For something to be done in time we need our politicians to listen up and take immediate action to halt climate change and save our beautiful planet for all wildlife and every generation to come."
The event, which will take place in the area surrounding the Palace of Westminster, is being organised by campaign groups The Climate Coalition and Greener UK. The two coalitions consist of more than 130 organisations representing over 15 million people – ranging from aid agencies such as CAFOD and Christian Aid to community groups such as the Women's Institute and nature conservation bodies such as The Wildlife Trusts. So far 14,000 people have signed up to attend from more than 95 per cent of UK constituencies.
Chief Executive of The Wildlife Trusts, Stephanie Hilborne OBE, says: "The thousands of people coming together for the mass lobby are a small fraction of the millions who are crying out for government leadership on nature's recovery. An ambitious Environment Act is desperately needed. This must establish a law requiring maps and plans to be drawn up to restore our rivers, towns and countryside to life, and funding must be directed towards this. Only this will reverse the catastrophic declines in the abundance of wildlife. Only this can ensure vast areas of our towns, cities and countryside come back to life. Urgent action is needed for a Wilder Future. The Time is Now."
The Time is Now mass lobby will take place following numerous reports emphasising the need for urgent action. The most recent, from the IPBES, showed that nature is declining globally at rates unprecedented in human history - and the rate of species extinctions is accelerating, with grave impacts on people around the world now likely.
The government has said the UK will set a target of reducing emissions of greenhouse gases to 'net zero' by 2050. Campaigners argue the government should show greater ambition and set a 2045 date in recognition of falling costs, technological developments and the need for urgency.
Join Graham at Westminster on 26 June to call for action on climate change. Visit www.wildlifetrusts.org/thetimeisnow