Your chance to speak up for wildlife
Mole, Badger, Ratty and Toad launch the Big Wild Debate.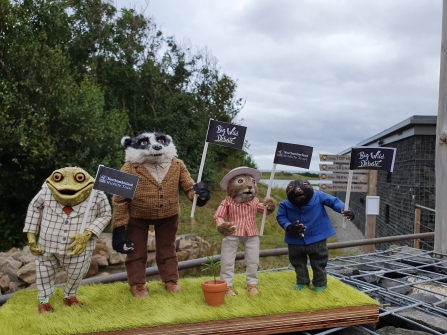 As part of the national Wildlife Trust's (TWT) Wilder Future campaign, this October, Northumberland Wildlife Trust is offering people from the region (and beyond) with an interest in nature, the opportunity to have their say on environmental threats and climate change.
Spurred on by the belief that if action isn't taken against climate change now, there will be devastating effects on humanity, the wildlife charity announced this week that it is hosting The Big Wild Debate, one of the most important events it has ever organised.
The event was launched at Northumberland Wildlife Trust's Hauxley Wildlife Discovery Centre by the four stop motion figures from the Wildlife Trust's Wind in the Willows trailer, which featured Stephen Fry, Alison Steadman, Catherine Tait, Asim Chaudhry and Sir David Attenborough.
Tickets, priced at £5.00 and £2.50 are now on sale for the BBC Question Time style debate, to be held on Thursday 17 October at Northumbria University's City Campus East Business & Law Building.
Hosted by BBC look North's Adrian Pitches, panellists Alan Charlton (Extinction Rebellion, Durham), Jamie Driscoll (North of Tyne Mayor), Dr Mike Jeffries (Associate Professor in Ecology, Northumbria University), Mike Pratt (Chief Executive, Northumberland Wildlife Trust) and Anne-Marie Trevelyan (MP for Berwick upon Tweed and Parliamentary Under-Secretary of State for Defence) will address environmental topics affecting everybody.
With discussions centering around topics which impact people in a number of ways: transport, development, business and climate change, the event is an ideal opportunity for anybody with a passion for nature to find out what they can do to redress the looming environmental crisis and make a personal pledge for a wilder future.
Speaking about his involvement in The Big Wild Debate, panelist Dr Mike Jeffries, Northumbria University's Associate Professor in Ecology says: "Climate emergencies…'insectageddon'… oceans of plastic… It's a wonder we are still here to have the Big Wild Debate. Why is looking after the environment so tricky, and what can we do (other than move to Mars)? Quite a lot, it turns out."
Fellow panellist, Mike Pratt, Northumberland Wildlife Trust Chief Executive says: "This event represents a key moment as we all join together to take action against climate and the extinction emergency. 
"It's easy in Northumberland and other great landscape areas to assume all is OK, when, in fact, the opposite is true. Factors such as pesticide, loss of habitats due to building development and the threats to key species from red squirrels to raptors, are all a cause for great concern.
"One way or another, the debate will underline our need to put nature at the centre of society and to act on its behalf with urgency."
For more information and to book at ticket, visit: www.nwt.org.uk/big-wild-debate.