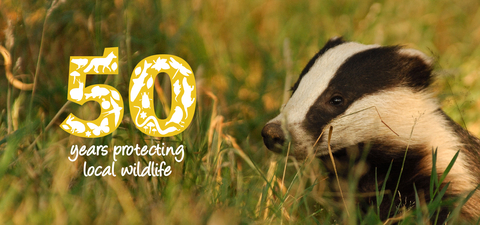 Can you believe we're 50? 
During the Trust's 50 year history, there have been many milestones including the acquisition of the ex-opencast site at Low Hauxley in 1983 and its transformation into an internationally recognised haven for birds, followed by the acquisition of Whitelee Moor in 1999 - a rare blanket bog and heather moorland and one of the largest nature reserves managed by any English Wildlife Trust. In 1998, NWT played a key role in the compilation of the Red Data Book of Northumberland - a list of rare and threatened species which formed the basis of the Northumberland Biodiversity Action Plan.
The year 2000 onwards saw the Trust lobbying for more marine protection and which led to the passing of the Marine Act in 2010, and the successful 2014 Hauxley Land Appeal which allowed the Trust to purchase additional land adjoining its Hauxley reserve which formed part of its plans for the new Hauxley Wildlife Discovery Centre, which opened in June 2017.  To date, the Centre has won nine awards for community benefit, sustainability, architecture and tourism, including the North East Bronze Award for Small Attraction of the Year and which, prior to the 2020 and 2021 lockdowns, was welcoming over 100,000 visitors.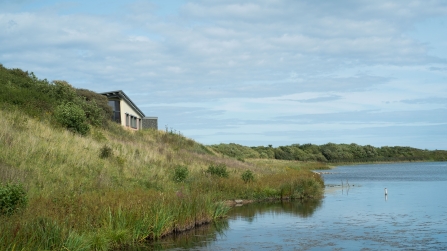 During this half century, The Trust has clocked up over one million volunteering hours, introduced thousands of children and young people to green spaces and managed over one thousand projects to protect hundreds of species. In addition, Vice President Angus Lunn has spent over 50 years identifying, restoring and extending the bog lands of the Border Mires transforming them into the best and biggest peatland restoration in the UK, not to mention Trust President Conrad Dickinson raising its black and white badger flag at the South Pole with Prince Harry in December 2013. Not bad for a charity which started life in a Portakabin behind the Hancock Museum in the centre of Newcastle.
As an organisation we have achieved so much over the past half century, helping wildlife, much of which wouldn't have been achieved without the people who have funded, worked or volunteered tirelessly for us and with us. There is still so much to do, and we must do even bigger and better things if our planet is to survive.

Northumberland Wildlife Trust CEO
Join us to help celebrate
To mark this anniversary year, Northumberland Wildlife Trust will be holding a series of activities (until December 2021). We've already kicked off the celebrations in style, with an online event joined by many of our supporters on 6 May - 50 and Fabulous, where we reflected on where the Trust came from, what's happening today and looked forward to another 50 years saving wildlife and wild places in our region. And we've got lots more being planned including, we hope, some face-to-face celebrations as restrictions ease (we promise there will be cake too!) Here's just a few of the things we've got planned that you can get involved in and we'll be adding more as details are finalised.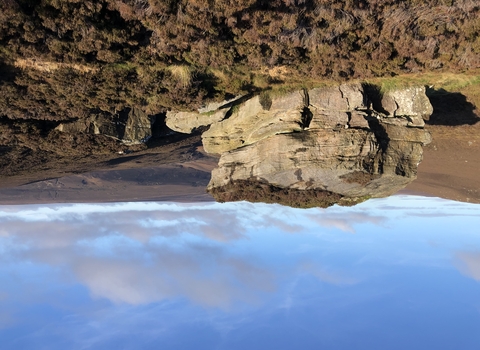 Northumberland Rock Festival
Northumberland rocks! Not only are we lucky enough to have amazing flora and fauna, but our geology is pretty fantastic too. And so to celebrate we're bringing you 50 extraordinary places to discover Northumberland's rich rock heritage. Each place has a very special story to tell. From rocky connections with our landscape and wildlife, to the history and the origins of our heritage and culture. Some you will know well, some less so – but all 50 of them has something that is guaranteed to surprise you! So visit our Rock Festival web page for more information and how you can get involved. 
Find out more
'Take 50' Fundraising Challenges
Are you up for a bit of a fun with a challenge and a purpose? We'd love you to take the number 50 and do something special with it. Do a Big Wild Walk of 50 miles and ask your friends to sponsor you. How about a bake sale at work to raise £50, or forgo your birthday presents to donate to nature? Lose 50lb between a group of you and donate your craving savings to nature. Please let us know what you're up to and we'll  share on social media.
'50 Steps'
We'd love to hear your top green ideas on things that people can do to help the natural world. We'll turn them into graphics and share them on social media with a summary of the top 50 at the end of the year.
'Then and Now'
Have you got any interesting, unusual or amusing experiences with the Trust that you can share (perhaps you fancy doing a podcast or vlog)? Do you or did you volunteer or work for NWT and what was it like? Have you any old photos of reserves or literature? Do you fancy doing a video tour of your favourite reserve or a piece about your favourite species? All contributions welcome – we can do the editing. We will be sharing on social media, our website and with the press.