Restoring Ratty: Preparation is Key!
We are currently working closely with Forestry Commission to pinpoint areas for our next water vole release in 2018. This does seem to be very early as the next release is not until June, but we need to give several months' notice to local Foresters and other land-based staff who may have objections to our suggestions.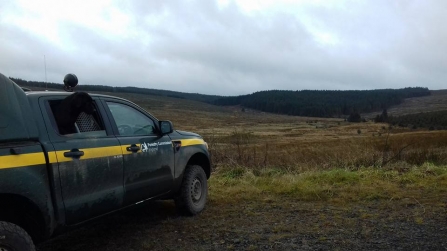 Like elsewhere in the country, it's currently Baltic up at Kielder! We spent last Thursday out with Paul & Dan, 2 wildlife Rangers, looking for suitable locations and we weren't disappointed!
This year, as well as looking for sites where the habitat is right with plenty of vegetation for the voles to feed on and banks for them to burrow into. We also need to think about how easy it will be for the voles to meet the voles that we have already released. The voles released in June will be our breeding stock and so we must ensure they are able to find mates close by.
We have selected a handful of locations but we can't confirm their suitability until next spring when we will shall be out surveying surveying, surveying! We need to determine where our current voles are and we won't know that until they begin to emerge and breed in the spring. Water vole surveys are best undertaken between April-September. Water voles do not hibernate, but they do spend a lot of the winter in their underground burrows feeding on their stashes of vegetation that they have cached away. Over the winter it's possible to lose up to 70% of the water vole population, which is a scary fact, but fortunately they breed like any other rodents, having about 6 litters between April - September with 5-6 kits per litter, which soon restores their population back up to healthy numbers!
We have several other projects that we are working on over the winter; which we shall update you on in our next blog in the New Year.
So for now we'd like to wish all of you a very Merry Christmas.
Thank you for all of your support in 2017.
The Restoring Ratty Team.