Restoring Ratty: Rambles and releases!
We've had a fab month so far! Currently our project area is in Kielder Water and Forest Park. However, we do aim to cross the boundary because as we've come to discover, water voles don't always stay where you put them!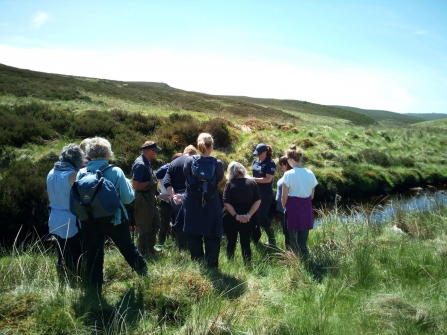 We have been working closely with Tyne Rivers Trust (TRT) to get mink rafts in place along the river Rede and the river North Tyne, ready in place for when the water voles population expands. Residents from the Rede catchment joined us last week for a fun day of water vole monitoring. They got a flavour of the importance of their role in checking mink rafts for our project; there were no midges encountered and only one welly full of water!
This will be the last blog before our June release. As I type, Coral from Derek Gow associ-ates is driving up from Devon with a van full of voles, here's to a safe journey for all of them; we're expecting approximately 160 voles to arrive tonight ready to be released onto sites we've spent many hours selecting to ensure we link up the populations.
In our last blog we identified a fantastic site at ridge end burn where the water voles were thriving; unfortunately since then a mink has found its way to this location. Dan a Forestry Commission ranger has deployed two traps and is checking them daily before any more damage is done.
Our first Ratty Ramble took place a couple of weeks ago, 5 folk joined us for a tour of the forest to learn about our project and to look for field sings of voles; we found loads! More ratty rambles are planned; you can book your place via
www.nwt.org.uk/whats-on.
We'll tell you how our release went in the next blog…
Graham & Kelly