Restoring Ratty: Schools & Voles!
A large part of our project involves working with schools; we are rolling out a 3 way school partnership where the schools can learn from each other. We are lucky to be able to work with other Wildlife Trusts, who have close links with schools local to them.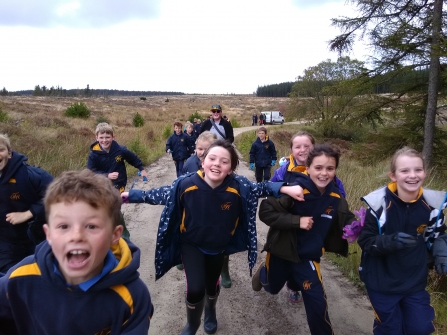 Last month, we worked with Paul Thompson from Yorkshire Wildlife Trust who put us in touch with Terrington Hall School who helped us with some water vole trapping in North Yorkshire.
On the 18th September, 19 Year 5 Terrington Hall pupils, accompanied by Head of Science Mr Woolley, assisted us with the capture of water voles at Robin Hood springs; a Forestry Commission site which boasts healthy numbers of water voles. We were given kind permission by Cath Bashforth of Forestry Commission to take 6 voles from this site, which we managed to do! These voles will help enhance the genetic diversity for the breeding stock already at Derek Gow's captive breeding centre in Devon.
The children were very enthusiastic, as were the teachers! Kelly Hollings from Restoring Ratty and Alan Fentiman, a film maker working with the project went into school to deliver a lesson. We all then headed out onto site where the children set traps baited with apple and filled with straw to leave overnight with the aim of trap-ping water voles.
The next day we met the children and Yorkshire Wildlife Trust on site to check the traps. Unfortunately we weren't lucky, but Coral from Derek Gow Consultancy who needed to check the traps at dawn to adhere to animal welfare laws had found 3 voles on her checks so all the children were able to see a water vole up close and personal! Alan then helped the children with some onsite editing for their films, which can be viewed here: restoring-ratty-schools.tumblr.com. All in all a wonderful experience for everyone involved!
In March 2018, Paul Martin from Devon Wildlife Trust will be working with St David's School to learn all about breeding water voles combined with a visit to Derek Gow's farm. In June 2018, we'll be working with Bellingham Middle School who will help us release water voles back into the wilds of Kielder! All three schools are linked via a blog where they are encouraged to make films of of their experiences to share with each other; they will also deliver an assembly at their school to help spread the word about Restoring Ratty!