Restoring Ratty - Is spring finally here?!
We enjoyed our first day of spring monitoring yesterday to determine how our voles fared over the winter, signs were disappointing, and we felt a little down-hearted, but we did find prints on a raft and when we brought in the camera traps, we found some very special images of water voles swimming in a pond!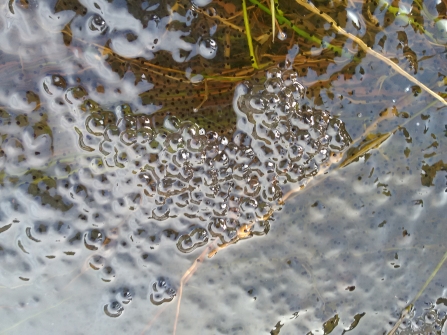 It had rained heavily the night before our survey, we knew it wasn't the best time to head out as most of the field signs would have been washed away, but it was a good day to refresh our survey skills and look for more potential release sites whilst we were out. We saw a sand martin, primroses galore, frogspawn and lots of toads, despite the wet weather it felt like spring was finally upon us!
Some good news for those of you enquiring about the new hide, it's nearly finished! We have a couple more days planned in to put up the shelves, give it a lick of paint, and find some benches for it. Fingers crossed our aim to get it open by the end of this month will come to fruition! It does however need a name; please email your suggestions to RestoringRatty@northwt.org.uk, the winner will get their name included in the hide interpretation.
Since our last blog, we have been working with Alan Fentiman; a local film maker from Alnwick and Paul Martin from Devon Wildlife Trust to introduce a class from St David's School in Exeter to the wonder of Water Voles. Paul and Alan went into class where the children took part in a film making workshop and learnt lots about our furry aquatic mammals before heading off to visit the Water Voles themselves at Derek Gow's centre. The children made shot films of their experiences which can be viewed here along with Terrington Hall School from York who helped us trap water voles last year. restoring-ratty-schools.tumblr.com.
We have also been touring Northumberland and giving talks about our project, we're happy to come and talk to wildlife groups. If you are interested, please do get in touch.
Best wishes
Graham & Kelly