Restoring Ratty: Winter antics - can you help?
Today was the last day of winter monitoring, in two weeks' time, we shall be deploying approximately 20 more rafts to help us survey over a larger area. As well as our fabulous team of volunteers, we now have some local landowners checking rafts for us, which really helps and extends our survey area, if you live or work locally to Kielder and can host and check a raft on your land, please do get in touch at Kelly.hollings@northwt.org.uk.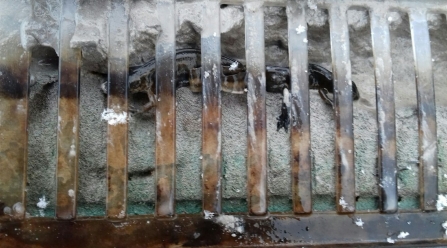 Today, Simon and Mel did still find some recent feeding signs of water voles which is a huge relief after our recent cold snap, they also found rafts still buried under snow and locked in the ice! Roll on Spring!
Our floating rafts have been a place of refuge during the cold weather; it's been a common sight finding palmate newts burrowed into the oasis of the trays within the rafts.
We are still working to erect a new bird hide above a pond on the Forest drive; we hope this will be open at the same time the Forest Drive re-opens at the beginning of May. The weather has put us back somewhat as the foundations for the hide until recently have been buried under snow, but we can now continue digging!
Our project featured on BBC Country File last weekend, thanks to all of you who have liked our Facebook Page as a result, please do get in touch if you'd like to get involved.
Best wishes
Kelly & Graham