Common by Nature: The autumn floodgates open at East Chevington
The tell-tale signs of autumn were clear to see upon my latest visit to NWT's fabulous East Chevington reserve.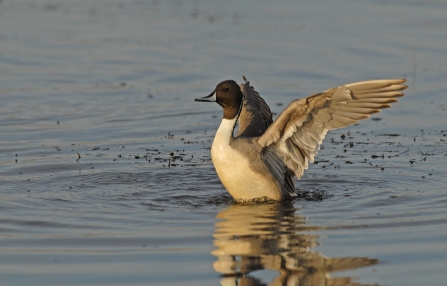 Blushing leaves, red admirals, plump blue sloes, impressive fungi and even a migrant hawker – a jewel of a dragonfly that graces the skies above Northumbrian wetlands during autumn, flying much later than most of its equally vivid kin. Indeed, these indicative signs of the season made for a marvelous, if somewhat blustery, autumnal day; though as ever, it was the wetlands avian residents that gave perhaps the clearest indication of the rapidly advancing calendar.
As a well-established wetland reserve, East Chevington is often the first point of call for migratory wildfowl making their triumphant return to British shores ahead of the winter season. Today, such birds were well represented: the first hint of seasonal splendour coming upon sight of eleven swans clustered tightly in the centre of the larger North Pool. Whooper swans – a close cousin of our resident mute swans told apart rather easily by their conspicuous yellow bills, and a seasonal migrant from windswept Iceland. East Chevington is as good a place as any to catch up with these pristine birds during winter; though it was nice to happen across a flock so early in the season.
Today the lake was also adorned, in places, with other species characteristic of the Northumbrian autumn: by whistling wigeon, elegant pintail and even a few handsome drake pochard. A red-headed diving duck that, despite being common elsewhere in Britain, has become somewhat of a scarcity here in the North-East. Watching and waiting, eyes moving incessantly between the assorted wildfowl amassed on the lake, it was not long until my ears pricked to the sound of geese overhead. The culprits, barnacle geese (or barnies as they're often called by those in the know); the flock arriving all at once – in a skein of roughly two-hundred – passing first over the dunes that separate wetland from sea and later, overhead as they continued their journey inland. To the Solway Firth on the West coast of our small island, the regular wintering site for the monochrome wanderers that arrive in the UK each autumn from Svalbard, in Norway.
Geese arrived and departed en masse during my stay: the sites location on the East Coast and diminished winds working in my favour as more and more graced the skies. Most were barnacles; though the tell-tale call of migrating pink-footed geese was heard as flocks moved South, and a glance seaward revealed a small group of brent geese powering North with haste. Great species, each and all, which together made for an exciting few hours. Though on this occasion, it was not just waterfowl on a move – a walk along the footpath spanning the Eastern fringe of the North Pool revealing countless passerines (songbirds) also clearly in the process of migrating.
A dapper wheatear came first, followed by a grey wagtail and then, four small flocks of lesser redpoll – a delicate finch whose numbers swell in autumn as bird's flock to our shores from the continent. Redwing came next, the iconic seep of the russet-winged thrushes audible as at least fifteen birds in separate parties moved overhead. Their shrill calls blending seamlessly into the seasonal cacophony of jingling goldfinches, ticking robins and, of course, migrating geese. It will not be long until each shrub, tree and hedgerow chimes with the sound of winter thrushes but, as of now, they remain thin on the ground. Thus, this encounter was one to savour.
Heading into the woodland that fringes the reserve to its Northern boundary, in vain hope of turning up something a little more unusual before I was forced to depart, one more surprise lay in store. A pleasing flash of vivid green heralding the arrival of a true autumnal gem: a yellow-browed warbler. A species synonymous with the season, boasting a distinct pale eyebrow (or supercilium, to use the correct lingo), that arrives on our shores annually from Eastern Europe – bringing smiles to the faces of birdwatchers up and down the East coast. I observed the warbler for a good half hour as it deftly combed the upper extremities of a scots pine in search of food, joined on this occasion by a lone goldcrest – another species whose numbers swell at this time of year. Much like the other NWT reserves located in Druridge Bay – Hauxley, Druridge Pools and Cresswell Pond – East Chev has a habit of turning up some truly delightful creatures come cutumn, and it always pays to expect the unexpected when walking during our most vibrant and alluring season.
For those looking to visit East Chevington, the reserve is well served by public transport from urban centres such as Newcastle, Morpeth and Alnwick. Simply hop on the Arriva X20 or X18 services, both of which stop over in nearby Hadston, and walk the mile or so to the coast.